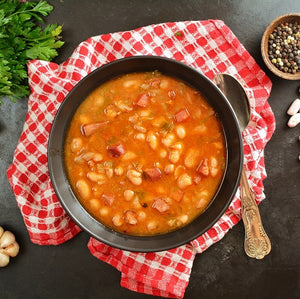 ITALIAN SAUSAGE and CANNELLINI BEAN SOUP by Chef Charles Knight
This is a lesson in creating a savory and indulgent sauce crafted from a medley of aromatic vegetables. I take finely diced vegetables and cook them in butter, allowing their natural sweetness to come through without caramelization. Slow cooked to perfection, these aromatic vegetables are then combined with a touch of tomato paste, fresh herbs, and a splash of chardonnay wine. The result is a rich, buttery cream-like sauce with just a hint of tomato. Perfect for enhancing the flavors of your favorite dishes, this sauce is a must-try for any food enthusiast and makes the perfect base sauce for my Italian Sausage and Cannellini Bean Soup. Elevate your culinary creations with my aromatic vegetables, herbs, wine, and butter sauce. 
EQUIPMENT: 5-quart stockpot with Ultra-Temp lid, chef's knife, cutting board, measuring cups, and spoons. NOTE: the heavy bottom on my new 9Ply Ultra-Tech II cookware is incredible for preparing delicate sauces like this. 
PREPARATION: 45 minutes – makes 8 servings
INGREDIENTS:
1 stick of unsalted butter
1 onion diced.
4 large cloves of garlic minced.
2 stalks of celery diced.
1 carrot minced.
1 tablespoon tomato paste
½ cup chardonnay wine
1 teaspoon Bada Complete Seasoning
1 tablespoon fresh parsley chopped.
2 tablespoons fresh basil chopped.
1 tablespoon fresh rosemary chopped
1-pound mild Italian sausage
2 cans 15.5 oz. Bush's Cannellini Beans with liquid
1 cup bone broth (2 cups for less thick)
2 bay leaves
½ cup Parmesan cheese grated
Cooking is Chemistry: I do not use salt or pepper in my recipes. If you want to become an excellent cook, take time to learn the chemistry of cooking using low temperatures to allow the natural minerals, vitamins, and enzymes of the foods to combine. If you must add salt and pepper it can always be added at serving.
DIRECTIONS:
In the 5-quart stockpot over medium-low heat 225ᵒF sauté onions, garlic, celery, carrots, and tomato paste in butter until vegetables are tender for about 15 minutes. Sir occasionally.
To create a rich thick sauce. Add the wine and stir and cook for about 5 minutes until the alcohol burns off and the sauce thickens. Add the Bada seasoning and fresh herbs and stir to combine.
Remove the Italian sausage from its casing and add to the pot. Break up the sausage meat with a wooden spoon and continue to cook until the sausage is fully incorporated and cooked. About 10 minutes.
Add the beans, bone broth, and bay leaves. Cover the pot, open the vent, and cook until the whistle sounds about 2 to 3 minutes. Close the vent and reduce to low heat 175ᵒF and cook for about 15 minutes.
SERVING: Top with grated parmesan cheese garnish with fresh basil leaves and serve with Italian bread. Enjoy!
Why I cook with butter? Butter has been a staple ingredient in kitchens for centuries and for good reason. It not only adds flavor and richness to dishes but also has many health benefits. Butter is made up of 82% milk fat, 16% water, and about 2% milk solids. It adds a rich, creamy flavor to soups, sauces, and baked goods. As mentioned in the recipe, one stick of unsalted butter or 4 ounces is enough for 8 servings, which equals about ½ tablespoon of butter or 51 calories, 3½g saturated fat, 0.25g trans-fat, and Cholesterol 15mg per serving.
Is Italian Sausage good or bad for you? talian Sausage provides high levels of Vitamin B-12 and Iron, both of which are essential for healthy red blood cells and haemoglobin production. B-12 helps you metabolise both fats and protein! Each sausage provides about a third of your RDA. You can swap out the Italian sausage for ground turkey if you like.