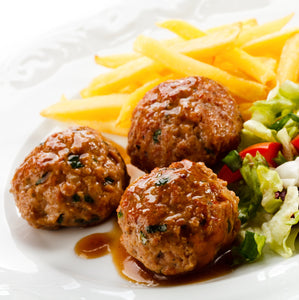 ITALIAN MEATBALLS
To be truly authentic, a great Italian meatball must be packed with flavor and tender throughout. Although this process can be laborious, making Italian meatballs from scratch is the only way.
Cooking is chemistry. Combining ground chuck, ground pork, and Italian sausage with onions, garlic, beaten eggs and grated Parmesan cheese provides true Italian flavor. The Panada, a binder made of bread crumbs, Italian seasoning and red pepper flakes soaked in milk, or buttermilk - enhances the flavor by combining an acid with a base. This will also keep the meatballs moist and tender.
To intensify flavor even further, searing the meatballs in olive oil and unsalted butter provides a caramelized outer crust. This is the process of searing the meat to bring the natural salts and sugars to the surface of the meat. It also helps to keep the meatballs together while they simmer in sauce, completing the cooking process.
EQUIPMENT: small and large mixing bowls, rotary food cutter, 5 Qt. or 6 Qt. Stockpot
Makes about 40 meatballs – Preparation and cooking time about 1½ hours
INGREDIENTS:
1 cup Italian bread crumbs
½ cup Milk or Buttermilk

2 tablespoons Italian seasoning
1 teaspoon red pepper flakes
1 pound ground chuck
½ pound ground pork
½ pound Italian sausage, casings removed
1 medium onion, minced
5 cloves garlic, minced
2 large eggs, beaten
1 cup Parmesan cheese, grated cutting cone #1
¼ cup fresh parsley, chopped
3 tablespoons, golden Olive oil (no virgins)
2 tablespoons unsalted butter
4 cups, homemade marinara sauce
½ cup Parmesan cheese, grated cutting cone #1
¼ cup fresh basil, chiffonade cut
PREPARATION
In a small bowl, combine bread crumbs with milk, Italian seasoning and pepper flakes. Mix until evenly combined. Let sit while you prep other ingredients.
In a large bowl, using your hands to combine beef, pork, sausage, onion, and garlic. Season with salt and pepper, then gently stir in bread crumb mixture, eggs, Parmesan, and parsley until combined thoroughly. Form mixture into 1 inch meatballs.
In the Stockpot, heat oil and butter over medium heat 375°F. Working in batches, sear meatballs on all sides to develop a crust. Set meatballs aside, reduce heat to medium-low, and add sauce to the stockpot to deglaze the pan. Bring sauce to a simmer 225°F, then add meatballs back to skillet. Cover and simmer until cooked through, about 20 minutes.
To serve; top with grated cheese and fresh basil.