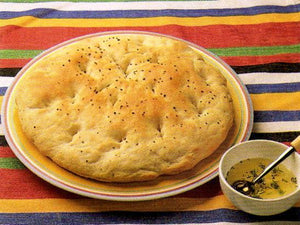 Italian Focaccia
Serves: 8
Preparation Time: 1 hour 50 minutes
(1 hour 30 minutes rising time)
Equipment: Large stainless Mixing Bowl, 13-inch Chef Pan,
Focaccia is as flavorful a simple country bread can get. Olive oil and rosemary give this yeast-raised its glorious Italian flavor.
1 package active dried yeast

1 cup (240 ml) warm water (105°F – 115°F)

2½ tablespoons fresh rosemary, sniped

3 tablespoons olive oil

2 teaspoons salt

2½ - 3 cups all purpose flour

coarsely ground black pepper (optional)
In the Mixing Bowl, dissolve yeast in warm water. Stir in rosemary, olive oil, salt and enough flour to make dough easy to handle. Turn dough onto lightly floured surface; knead until smooth and elastic, 5-10 minutes. Place in greased bowl; turned grease side up, cover and let rise in a warm place until in doubles in size. About 1 hour. (Dough is ready when indentation remains when untouched).
Punch down dough. Press into oiled 13-inch (33 cm) Chef Pan. On top of dough, make depressions with fingers, about 2" (5 cm) apart. Brush with oil and sprinkle with pepper. Let rise uncovered, about 30 minutes. Cook covered (vent closed) on medium heat, about 15 minutes. Reduce heat to low and continue to cook covered with the vent open 10 more minutes. Bake until golden brown, check when done by gently lifting the bottom with a spatula. Brush with additional oil and serve warm.
NOTE: for darker crust on the top, after the first 15 minutes of cooking time on top of the stove, the Chef Pan can be placed in the oven without the cover and finished cooking at 375°F (190°C) for 10 minutes.
NUTRITIONAL BREAKDOWN PER SERVING: Calories 288; Fat Grams 6; Carbohydrate Grams 46; Protein Grams 13; Cholesterol mg 0; Sodium mg 547.
THE POINT SYSTEM: Calorie Points 4; Protein Points 0; Fat Grams 6; Sodium Points 24; Fiber Points 3; Carbohydrate Points 3; Cholesterol Points 0.