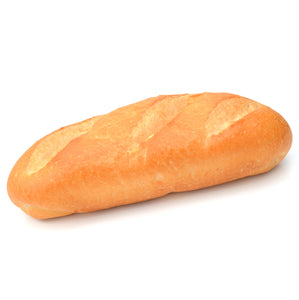 EQUIPMENT: Measuring cups and spoons, large mixing bowl, soup bowls, pastry brush, baking stone, Pizza Peel.
INGREDIENTS:
¼ cup warm water (not to exceed 110ᵒF)
1 teaspoon sugar
1 package 2 1/4 teaspoons dry active yeast
2 cups all-purpose flour
1 teaspoon salt
2 tablespoons olive oil (not the green stuff)
1/2 cup warm water (not to exceed 110ᵒF)
Water for wetting your mixing hand.
All-purpose flour
1 whole egg
Semolina or cornmeal 
DIRECTIONS:
Add sugar and yeast to 1/4 cup warm water, mix and set aside.
To the mixing bowl, add the flour, salt, 2 tablespoons olive oil, and yeast and water mixture. Mix by hand.
Add a small amount of warm water at a time and continue to knead dough into a ball.
Cut the dough in half and place in separate floured soup bowls. Cover the plastic wrap and allow to stand for one hour to rise.
After one hour, flour your hands, remove the dough from the bowl, and roll the dough into the shape of Italian bread. Place the dough on a well-floured cutting board and roll to cover in flour. Cover with a dish towel and allow to rest for one-half hour to rise again.
Preheat your oven to 400ᵒF.
Uncover the bread dough. It should be double the size. Make 4 or 5 diagonal cuts across the top of the bread with a sharp knife. This will help it bake better.
With a fork, scramble an egg in a mixing bowl. Using a pastry brush, brush the bread dough with the egg mixture.
Sprinkle semolina or corn meal on a Pizza Peel and slide the bread onto the peel then place in oven. Bake for 35 to 40 minutes. Do not open the oven.
Which Is Better Wood or Metal Pizza Peel?
They are both pizza peels but have different purposes. A wooden peel is best for transferring bread and pizza to the oven, a metal peel is better for turning and getting bread and pizza out from the oven.
Baking Stone or Pizza Stone
The best kitchen tool for baking bread and pizza is a ceramic tile Baking Stone or pizza stone made from natural clay that has been pressed into a dense, flat tile, and kiln fired at extremely high temperatures. Similar to a chimney brick, baking stones retain and radiate heat without warping or cracking. For the best results it is best to place it on the lowest rack in the oven.