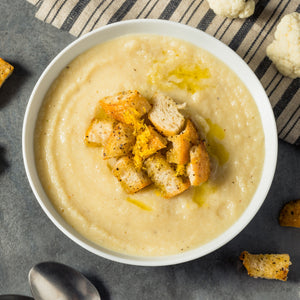 PREPARATION: 10 minutes – makes 8 servings
EQUIPMENT: French Chef Knife, Kitchen Machine food cutter, 11-inch gourmet skillet
INGREDIENTS
2 tablespoons of unsalted butter
1 tablespoon basil chopped fine.
1 teaspoon fresh parsley chopped fine.
½ teaspoon ground black pepper
4 slices of toasted bread, cubed.
2 tablespoons grated Parmesan cheese grated #1 cone.
Melt butter in a gourmet skillet over medium heat at 275ᵒF. Add basil, parsley, and pepper.
Place cubed bread in a Ziplock bag with Parmesan cheese. Pour the butter mixture over the bread and shake to coat.
NOTE: You can store Croutons in a plastic bag in the refrigerator for up to one week.