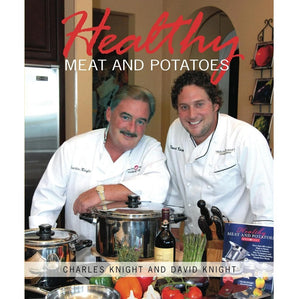 #1 Bestselling cookbook on the classic methods of waterless greaseless cooking. By Chefs Charles Knight and David Knight. Get it FREE with designated cookware sets and food cutters. 
Author: Celebrity chef, Charles Knight, is a New Jersey born bestselling cookbook author and former co-host of "In the Kitchen with Chef Tell (PAX Television Network), and "Jack Can't Cook" with Jack Harris (Food Network and NBC/WFLA-TV). Chef Knight received his basic culinary training under Chef William Christmas while still in high school. He furthered culinary education later in life attending (ICE) the Institute of Culinary Education NYC and earned credits in Nutritional Cuisine from the (CIA) Culinary Institute of America in Hyde Park, N.Y.
Good-Food is a unique, delightful "language" spoken through tempting tastes, stimulating aromas and attraction presentations. I have assembled many of the fondest ethnic tastes and American favorites I enjoyed in my boyhood. Other ideas came from my high school years working in the butcher shops and as a short-order cook. More came from the inspiration of my good friend and neighbor, TV Cooking Show Host Chef Tell and culinary education. Even more came in preparation for my weekly television appearance on WFLA-TV in Tampa and from developing the curriculum for the Health Craft Cooking School. And now, living in Tampa, I have added some Southern delights and the ethnic mix of Ybor City's Italian, Spanish, and Cuban cuisine, all to come in the website pages to follow. I have also included what I have learned from four decades in the cookware business: a practical way to create old classics and family favorites with reduced fat, less sodium, lower cholesterol, and calories without compromising taste or culinary training. Better tasting meals that help develop better health, a winning combination! The secret is waterless, greaseless cooking. Yes, healthy food is a delightful, unique language, and I hope the ideas you will find on this website and our NEW bestselling cookbook "Healthy Meat and Potatoes" will help you express yourself in healthful and wonderful ways. To your good health!
Cookbook Author, Radio and TV Personality, Chef Charles Knight, recognized worldwide as the foremost expert on the classic methods of waterless cooking and induction cooking.
Paperback:239 pages
Publisher: Amazon Publishing; 3rd Revised edition (February 28, 2007)
Language: English
ISBN-10:1419659669
ISBN-13:978-1419659669
Product Dimensions:9 x 7.5 x 0.8 inches
Shipping Weight:1 pounds 
Reducing the risk of disease, increasing energy, and improving our immune systems. "The great law of Life is Replenishment. If we do not eat, we die. Just as surely, if we do not eat the kind of food which will nourish our body constructively, we not only die prematurely, but we suffer along the way." Dr. Norman Walker (lived to 99 years)
Most people realize that the selection of food is extremely important for maintaining good health, but how we prepare the food determines the nutritive value we receive from the foods we eat. The Waterless, Greaseless method of food preparation will help you obtain the maximum nutritional value in the food you cook.
TRADE-IN your old waterless cookware and TRADE-UP to Ultra-Tech II 9Ply Magnetic Waterless Cookware and get a brand-new set at half price.
Customer Service and Culinary Specialists available from 8am to 10pm EST 7 days a week and from 1pm to 8pm on Holidays. Text or Call 1-813-390-1144