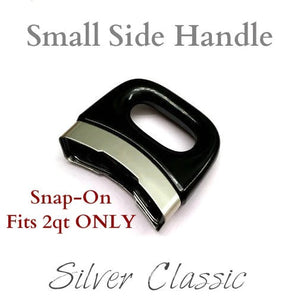 Black Silver Classic Small SIDE HANDLE Snap-On no screw fits 2-quart Saucepan ONLY. 
Handle snaps on, NO SCREW. Includes side handle, stainless flame guard, and spring inside handle.
Please compare the photo with the part.
Fits 2qt ONLY.
Dimensions: 2.7Wx2.7Dx1H
REMOVING and REPLACING Snap-On Handles
To remove the old handle, turn the pan upside down and lay it on a flat surface. Notice the slot between the flame guard and the pan. Using a flathead screwdriver, insert the tip into the slot (you may want to put tape on the screwdriver to prevent it from scratching the pan), and twist the screwdriver until the spring inside the handle releases.
To install the new handle. Be sure the flame guard is installed on the handle properly. Put the handle on as far as it will go. Then give the handle a good tap on a cutting board (or a good tap with a rubber mallet), the spring inside the handle will push over the prongs on the end of the stainless attachment and lock the handle in place.
We process orders upon receipt and ship them the same day or the next business day. The receipt and Tracking Number will be emailed to you. 
NOTE: 4-Square Cookware is still in production, and we do have upgraded replacement parts that will fit your cookware. Although we accept returns for refunds, shipping is not recoverable. If you are not sure what to order call Customer Service.
TRADE-IN your old Waterless Cookware and TRADE-UP to our NEW 9-Ply Ultra-Tech II Magnetic Induction 316ti cookware with Titanium. To access trade-in value contact customer service from 8 am to 10 pm Daily including holidays. Call 1-813-390-1144
WARRANTY: Suitable replacement pots, pans, skillets, and covers are still available for most brands. If the connection welded to the pan is missing or the pan is damaged, call customer service for repair or replacement.