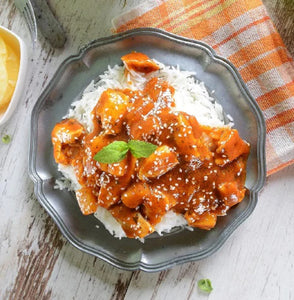 This is a recipe that has been a family favorite for decades and a famous Jack Harris cooking lesson with Chef Charles Knight on Harris & Co. WFLA-TV8 LIVE from Busch Gardens Tampa. Taped in front of a live studio audience. See the video below. 
PREPARATION: 30 minutes – Serves 6 
EQUIPMENT: 2 Qt Saucepan, Kitchen Machine food cutter, Chef Knife, Cutting Board, Large Skillet or Electric Skillet
INGREDIENTS:
1-cup rice
2-cups purified water
1-pound chicken breasts, cubed
1-onion, chopped #2 cutting cone
1 red pepper, diced.
½-cup pineapple juice
1-cup, ketchup
½-cup soy sauce
2-tablespoons corn starch
½-teaspoon ground ginger or 1 teaspoon fresh grated ginger
1 tablespoon Dixie Crystal Sugar
1-cup pineapple chunks or 8-ounce can drain (juice reserved)
1 tablespoon toasted sesame seeds
Mint leaves for garnish
RICE
In the 2 Qt. Saucepan, bring water to a simmer over medium heat 275ᵒF, stir in rice, cover, and close the vent, turn the heat off, and let stand 30-40 minutes.
NOTE: cooking is chemistry. Using tap chlorinated tap water will change the chemical composition of the food and neutralize the flavor. The best investment you can make for your home and family is a water purifier. See Health Craft water purifiers here!
CHICKEN
With a French chef's knife, cut the chicken into bitesize cubes, ½-inch (1.5 cm).
To Cook: Preheat skillet over medium heat 375ᵒF, about 2 to 4 minutes. Evaluate the temperature of the cooking surface by sprinkling a few water droplets in the pan. If the droplets bead up and dance across the surface, the pan is hot enough to brown the chicken and seal it in juices. Place the chicken in the pan; it will stick at first while browning. Cover the pan and open the vent. When the chicken loosens, about 5 to 7 minutes, turn it to brown on the other side, about 3 to 4 minutes. Remove cover, add onions, and pepper sauté in chicken drippings until cooked to desired tenderness, 3 to 4 minutes.
While the chicken is browning, in a mixing bowl, combine pineapple juice, ketchup, soy sauce, cornstarch, ginger, and sugar. Mix well. When the onions and peppers are tender, add the mixture and pineapple chunks, and stir until the sauce begins to thicken about 2 to 3 minutes.
Serve over rice and top with toasted sesame seeds and mint leaves.