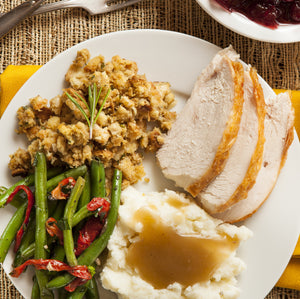 This is a combination of my Mother's stuffing recipe, which was very simple; stale Wonder bread, onion, turkey stock and turkey liver (it had to be Wonder bread). Mom copied the recipe from her mother Grandma Youngman, and my wife LeAnn has now added enhancements, so I guess we can say that this is a three-generation 100 year old family recipe.
EQUIPMENT: 2-quart saucepan, 6-quart stockpot, kitchen machine food cutter, chef knife, cutting board.
PREPARATION TIME: 2 hours – makes 10 to 12 servings. (Not including time roasting the turkey)
1 Giblets (turkey liver, heart, neck, and gizzard)
1 Lb. Jimmy Dean Sage Sausage
2 tablespoons, unsalted butter
3 Celery, Julienne #2 cutting cone.
1 onion chopped and peeled #3 cutting cone.
5 cloves garlic minced fine.
8 oz. Whole mushrooms chopped #2 cutting cone.
1 teaspoon poultry seasoning
1 turkey liver, chopped fine
2 12 oz. bag Pepperage Farm Herb stuffing mix.
1 cup chicken stock
Salt and pepper to taste.
DIRECTIONS:
In a 2 Qt. saucepan, bring 5 to 6 cups of water to a simmer, add the turkey neck, gizzard and liver. Simmer for 1 to 1 ½ hours. Until liquid is reduced by two-thirds. Discard the neck and gizzard. Set the turkey stock and liver aside.
Preheat the 6-quart stockpot over medium heat 275F to 300°F (135°C to 149°C), sauté the sausage meat until cooked through, about 7 to 10 minutes. Remove from the pan and set aside.
Melt the butter in the stockpot and add the celery and onions, sauté 3 to 5 minutes. Add the garlic and mushrooms and continue to cook until ingredients are cooked down, about 7 to 10minutes.
To the stockpot, add the poultry seasoning, chopped turkey liver and sausage, and stir to combine all ingredients. Stir in the Herbed Stuffing mix and the turkey stock and reduce the heat to medium-low or simmer 175°F to 200°F (79°C to 93°C).
The stuffing needs to be relative moist as it will dry out some during the turkey roasting process. So you may need to add up to a cup of chicken stock, maybe more.
My mother always stuffed the turkey under the skin, whereas my wife stuffs the cavity. Or you can bake it in the oven separately. Either way this recipe is a family favorite in the Knights Before Christmas Holiday Cookbook.
Turkey Gravy – Traditional or Gluten Free
Cooking is Chemistry, but roasting a turkey is no big deal. However, we all know that gravy makes the meal, and there is a science to it. It begins when equal parts of flour and unsalted butter are cooked together over medium heat to create a base roux. When combined with the acid white wine, a chemical reaction takes place with an explosion of flavor, and with the process the gravy thickens. Gluten Free gravy lovers, just substitute quality rice flour like Bob's Red Mill brand.
Secondly, homemade chicken stock adds to the chemistry of it all, and there are a few good quality stores that bought chicken broths, but there is no substitution for homemade. Finally, an excellent quality Chardonnay and fresh herbs provide the essence and the finishing ambiance.
EQUIPMENT: large gourmet skillet, wooden spoon and turkey roaster.
PREPARATION: 10 to 15 lb. Turkey – makes 8 servings.
4 tablespoons unsalted butter
1/2 cup all-purpose flour or rice flour
3 cups homemade chicken stock
1 cup Chardonnay wine or other white wine
1 teaspoon fresh Thyme finely chopped.
1 teaspoon fresh Sage chopped fine.
Sea salt and fresh ground black pepper
To prepare the roux, I prefer to use my stainless-steel stir fry skillet. At just above medium heat 225°F to 250°F (107°C to 121°C), gently melt the butter until slightly separated; simmer 1 or 2 minutes. Do not allow the butter to burn or turn brown in color. Stir in a little bit of flour at a time and cook, stirring occasionally. The roux is cooked when it is light blond in color and has a slight aroma of baked cookies, 10 to 15 minutes. NOTE: Roux can be wrapped in plastic wrap or stored in an airtight container in the refrigerator, ready to use on Thanksgiving.
To prepare the gravy
Remove the turkey from the roasting pan to a platter and cover with foil and allow to rest for about 30 minutes before carving. When you carve too soon, juices will flow out and you will be left with dry meat. Resting allows for the redistribution of the juices, keeping the turkey hot and moist.
Place the roasting pan with turkey dripping over medium heat 250°F to 275°F (107°C to 121°C), add the chicken stock and wine. Using a whisk or wooden spoon scrape the bottom of the pan until all the remnants have come loose. Simmer until liquid is reduced by about one-quarter 5 to 7 minutes. Using a ladle, remove excess fat from debris that floats to the surface. Add the roux, whisk continuously, until the gravy begins to thicken slightly and becomes silky smooth. Whisk in the herb and season to taste with salt and pepper, if using. Keep in mind, your gravy is slightly thin in the pan and it will continue to thicken even when removed from the heat.
Source of certain elements of preparation: http://whatscookingamerica.net/Poultry/GuidelinesRoastingTurkey.htm