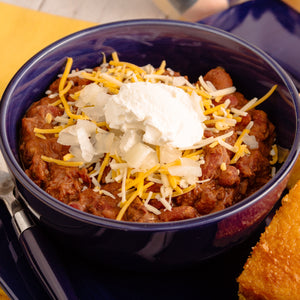 Award Winning Gourmet Chili by Chef Charles Knight
PREPARATION: 1 hour 15 minutes – makes about 5.5 quarts
EQUIPMENT: 5-quart mixing bowl, 6-quart stockpot, large sauté skillet.
INGREDIENTS
2 23oz cans of Cento crushed tomatoes.
2 8oz cans of diced tomatoes and green chilies.
1 to 2 tablespoons sugar (if tomatoes are high in acidity)
3 tablespoons sweet paprika
2 to 3 tablespoons ground cumin
1 teaspoon garlic powder
1 tablespoon onion powder
1 tablespoon dried oregano
1 tablespoon BADA Complete Seasoning
1 teaspoon cayenne pepper
3 strips thick bacon diced.
1 tablespoon unsalted butter
2 medium onions diced.
5 cloves garlic minced.
2 medium bell peppers diced.
1 to 2 jalapeño pepper diced (or more if you like hot)
6-ounce can of tomato paste.
1 cup Red Ale or another fine beer
1 cup beef stock
1 cup of strong black coffee
1 pound ground chuck
1 pound ground brisket
1 pound ground sirloin or Jimmy Dean Italian Sausage
3 16oz cans of red kidney beans (optional see notes on Chili Cookoffs)
2 cups Cheddar cheese, grated.
½ cup sour cream
2 Jalapenos pepper, sliced. (Optional)
Note: In Chili Cookoffs you are not permitted to have beans of any kind at your cooking station. However, many like beans in their chili. Try it both ways.
DIRECTIONS
In the mixing bowl, add canned tomatoes, sugar, paprika, cumin, garlic powder, onion powder, oregano, and cayenne pepper. Mix well and set aside. NOTE: If tomatoes are high in acidity add 1/8 teaspoon of Baking Soda.
In the 6-quart stockpot over medium-high 375ᵒF heat, sauté bacon, onions, garlic, and peppers in bacon grease and butter until slightly browned, 10 to 12 minutes, stirring occasionally.
Reduce to medium heat 275ᵒF. Add the tomato paste and cook, stirring until the paste turns reddish-brown in color, 6 to 8 minutes. Do not allow the residue that forms on the bottom of the pan to burn.
Add the Ale or Beer to deglaze the pan and reduce by half. Stirring occasionally to burn off the alcohol. Add beef stock and coffee to the mixture. Stir to combine.
Add the tomato and spice mixture and mix well. Reduce the heat to a simmer of 200ᵒF.
In a large skillet over medium-high heat 375ᵒF sauté beef and sausage until browned, 7 to 10 minutes. Stir occasionally.
Add cooked meat to tomato sauce. Mix well and simmer, for about 45 minutes. Stir occasionally. Add beans (if using).
To serve: top with grated cheese, sour cream, and sliced jalapeno peppers.