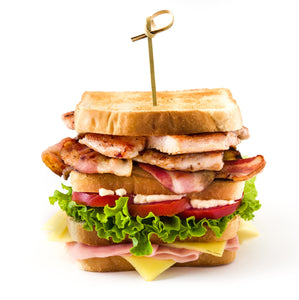 Bacon, Lettuce and Tomato on Toasted Bread
EQUIPMENT: 12-inch Gourmet Fry Pan
PREPARATION TIME: 15 minutes -Makes 1 BLT
INGREDIENTS:
4 slices bread of your choice
3 tablespoons Mayonnaise
3 strips crispy bacon
1 medium size New Jersey tomato cut into 4 slices.
Romaine Lettuce
DIRECTIONS:
The key to preparing the perfect BLT is to toast the bread on one side and not the other. Toasting is done most effectively on a stainless-steel flat grill, square griddle, or large Fry Pan. The unexpected star of the show is toasting the bread using mayonnaise - try it, you will never do it any other way again.
Toasting the Bread: Spread a thin layer of Mayonnaise evenly on one side of the bread. Preheat the Fry Pan over medium heat 275ᵒF. Place the mayonnaise side down on the skillet and toast, about 4 to 6 minutes until golden brown. Set aside to cool.
Note: Homemade Mayonnaise is the perfect combination for toasting and adding flavor.
Whisk together lemon juice, vinegar, mustard, and pickle juice. Add the egg and whisk to combine ingredients. Drizzle in the oil slowly as you continue to whisk.
Makes about 1 cup.
1

teaspoon lemon juice
1 teaspoon apple cider vinegar

1 teaspoon Dijon mustard

1 teaspoon sweet pickle juice

1

large egg yolk, at room temperature

¾

cup golden olive oil (not the green stuff) or vegetable oil
Dash of salt to taste (optional)
Assembly: Spread mayonnaise on untoasted side of bread and place tomato on mayonnaise. Place crispy bacon on tomatoes and top with Romain lettuce. Salt and Pepper to taste.
Serve with potato chips and dill pickles. Avocado sliced (optional)