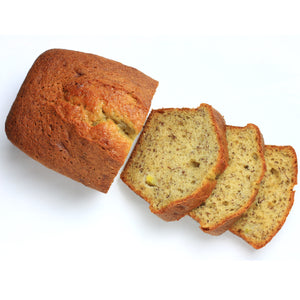 GOING NUTS OVER SWEET POTATO BANANA BREAD
EQUIPMENT: two stainless steel mixing bowls, stainless Steel Loaf Pan
INGREDIENTS:
1¾ cup all-purpose flour or cake flour
1½ tsp baking soda
1 cup pecans chopped fine.
¾ cup brown sugar
¾ cup white sugar
1 cup pecans chopped fine.
3 large eggs beaten.
½ cup ripe bananas mashed
½ cup cooked sweet potatoes mashed*
½ cup vegetable oil
2 tsp vanilla extract
Preheat oven to 350° and butter a loaf pan.
DRY INGREDIENTS
In the medium mixing bowl whisk flour, baking soda, brown sugar, white sugar together in a medium bowl, add pecans and make sure individual pieces are coated in flour (so nuts do not sink to the bottom of the loaf pan while baking).
WET INGREDIENT
In the large mixing bowl combine eggs, sugar, bananas, sweet potatoes, vanilla, and oil in a large mix well.
COMBINE ALL INGREDIENTS
Fold dry ingredients into wet ingredients.
Scrape batter into prepared pan and smooth top
Bake for 60-70 min or until a toothpick or fork inserted into center of loaf comes out clean.
Allow to cool sufficiently before serving – if you can. Serve sliced with spread cream cheese.