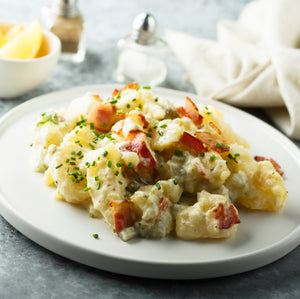 GERMAN POTATO SALAD Bratkartoffeln
The difference between American and German Potato Salad. American potato salad is prepared with a mayonnaise-based dressing and served cold, and German potato salad is prepared with vinegar-based dressing and served warm, but you can serve it cold as well.
Bratkartoffeln is a German food that people often want to recreate at home. This beloved dish that is hard to pronounce (brat-kah-toff-len) translates as "fried potatoes," and it is indeed that: pan-fried potatoes, bacon, onions, and seasonings.
PREPARATION: 45 minutes – makes 6 servings
EQUIPMENT: French chef knife, cutting board, kitchen machine food cutter, large sauté skillet.
INGREDIENTS
2 strips of thick bacon coarsely chopped.
1 tablespoon unsalted butter
6 to 8 red potatoes sliced ½-inch thick.
1 onion chopped #2 blade.
½ cup apple cider vinegar
2 tablespoons sugar
½ cup parsley chopped
½ cup sour cream
DIRECTIONS
In the skillet, cook bacon over medium-high at 275ᵒF until slightly crisp. Remove from pan with a slotted spoon and set aside.
To the skillet add the butter, potatoes, and onions to the skillet, cover, and open the vent. When the whistle sounds or steam begins to escape from the vent, close the vent and reduce the heat to low 200ᵒF, and cook for about 15 minutes. With a flexible spatula, turn the potatoes, cover them, and continue cooking, for about 10 to 12 minutes.
Combine vinegar and sugar; deglaze the skillet with the mixture. Cover toss and plate.
TO SERVE, top with crumbled bacon, chopped green onions, and a dollop of sour cream.
NUTRITIONAL BREAKDOWN PER SERVING: Calories 168; Fat Grams 2; Carbohydrate Grams 34; Protein Grams 4; Cholesterol mg 3; Sodium mg 71.
THE POINT SYSTEM: Calorie Points 2; Protein Points 0; Fat Points 2; Sodium Points 3; Fiber Points 1; Carbohydrate Points 2 ½; Cholesterol Points 0.