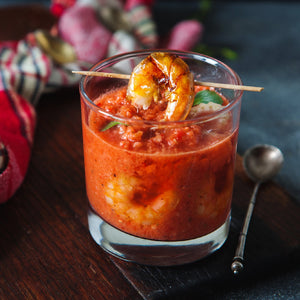 Gazpacho with Shrimp and Avocados, a rendition of a classic dish originating in the Andalusian region of southern Spain. Gazpacho is a cold soup made of regional raw, blended vegetables. Andalusia is a large region of hills, rivers and farmland with its most famous landmark The Rock of Gibraltar. It was under Moorish rule from the 8th-15th centuries, a legacy that shows in its cuisine, architecture, and famous landmarks in Seville, Córdoba and Granada.
Add boiled shrimp and Avocado and you have a classic
EQUIPMENT: Commercial Blender, Chef's Knife, Cutting Board, 5 Qt. Stockpot with Lid.
PREPARATION TIME: 1 1/2 to 2 hours - Makes 6 to 8 servings
BLEND approximately half of the following ingredient in the blender and liquefy. Pour the mixture into the 5 Qt. soup pot to chill.

2 pounds, Roma tomatoes or New Jersey tomatoes, seeded and chopped (½ reserved)
1 cucumber or ½ English cucumber, seeded and chopped (½ reserved)
1 large green pepper, seeded and chopped (½ reserved)
½ Red onion, chopped (½ reserved)
3 cloves garlic, minced (½ reserved)
½ small Jalapeño, seeded and minced fine (½ reserved)
1 tablespoon Spanish olive oil
3 tablespoons Sherry vinegar
½ teaspoon cumin 
ADD: Add the balance of the ingredients above and below (except for green onions and sour cream) mix well and cover. Place the soup pot in the refrigerator and chill, about 1 hour. The conductive multi-ply pan will conducts cold as well as it does heat. If not using Health Craft cookware chill for 2 to 3 hours.
8 or 10 Cilantro leaves, rough chopped
12 to 16 grilled or boiled shrimp, cleaned and peeled, chopped or whole
2 medium Avocados, cubed
1 small red mango, cubed
Salt and pepper to taste
4 ounces sour cream
1 bunch of green onions, chopped
TO SERVE, ladle chilled Gazpacho into serving bowls or whiskey glasses, top with sour cream and chopped green onions.
Another option would be to top the Gazpacho with a combined portion of the horseradish and sour cream.
Bread: Leftover crusty white bread is the key to the texture of authentic gazpacho, helping to thicken it slightly and round out the flavors. Be sure to discard the crusts. Then to help the bread blend well, our local friends taught us to either: