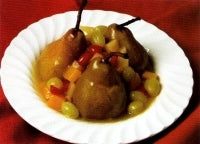 Fruit & Ginger Pears
Serves: 6
Preparation Time: 50 minutes
Equipment: 4-quart Stockpot
6

medium pears, cored
1

8 ¾ ounce (250 g) can fruit cocktail, drained, reserving syrup to measuring cup
¼

cup (60 ml) fresh squeezed orange juice
2

teaspoon crystallized ginger, chopped or fresh ginger, grated blade #1
1

tablespoon cornstarch
1

tablespoon water
3

tablespoons dry sherry
Add enough water to syrup from fruit cocktail to make 2/3 cup (160 ml) of liquid. In the 4-quart (4 L) Stockpot, combine reserved syrup/water mixture, orange juice, and ginger. Place pears upright in liquid and bring to simmer over medium-high heat. Reduce heat to low, cover (vent closed) and cook 40 minutes. Remove pears to individual serving bowls.
In a small bowl, combine cornstarch and water, mix well. Stir cornstarch/water mixture into hot syrup, stirring until mixture thickens. Remove from heat and stir in sherry and fruit cocktail.
To Serve: Spoon fruit cocktail sauce over pears, can be served warm or cold.
NUTRITIONAL BREAKDOWN PER SERVING: Calories 173; Fat Grams 1; Carbohydrate Grams 41; Protein Grams 1; Cholesterol mg 0; Sodium mg 8.
THE POINT SYSTEM: Calorie Points 2 ½; Protein Points 0; Fat Grams 1; Sodium Points 0; Fiber Points 2; Carbohydrate Points 2 ½; Cholesterol Points 0.