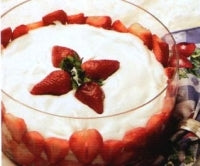 Fresh Strawberry Trifle
Serves: 8
Preparation Time: 2 hours 30 minutes
Equipment: 2 quart (2 L) Saucepan, 1-quart stainless Mixing Bowl
2

cups (480 ml) skim milk, divided
1

egg, beaten
3

tablespoons cornstarch
2

tablespoons honey
1

teaspoon vanilla extract
½

teaspoon orange extract
6

Angel Food Cake slices; or ladyfingers or Twinkies sliced lengthwise
1

tablespoon Triple Sec
3

cups fresh strawberries, trimmed, sliced and divided
Combine 1¾ cups (420 ml) milk with beaten egg in 2 quart (2 L) Saucepan. Beat with a wire whisk 1 to 2 minutes or until foamy.
To create the Custard Filling, in the 1-quart Mixing Bowl combine remaining ¼ cup (60 ml) milk with cornstarch, stir until smooth. Add honey and stir well. Add to milk and egg mixture, and cook over medium heat, stirring constantly until thickened. Remove from heat and stir in vanilla and orange extract. Cover and chill.
Arrange half of cake on bottom of trifle dish or clear bowl. Sprinkle cakes with Triple Sec. Arrange 1 cup sliced strawberries on top of cakes and cut side out around lower edge of dish. Top with half of chilled custard and remaining cakes. Repeat with another layer of strawberries. Top with remaining custard and 1 cup strawberries. Cover and chill at least 2 hours. Garnish with whole strawberries and mint leaves.
NUTRITIONAL BREAKDOWN PER SERVING: Calories 232; Fat Grams 1; Carbohydrate Grams 48; Protein Grams 7; Cholesterol mg 37; Sodium mg 309.
THE POINT SYSTEM: Calorie Points 3; Protein Points 1; Fat Grams 1; Sodium Points 13; Fiber Points 1; Carbohydrate Points 3; Cholesterol Points 4.