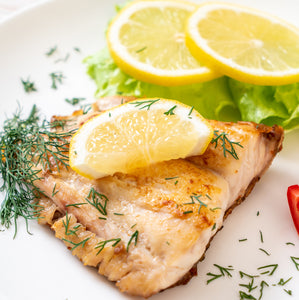 Healthy Cooking with Jack Harris and Charles Knight    
EQUIPMENT: 13-inch gourmet skillet
INGREDIENTS:
4 cups purified or filtered water.
½ medium onion, chopped
1 small carrot chopped.
1 stalk of celery diced.
2 cloves garlic, crushed.
6 peppercorns
¼ teaspoon of Allspice
1 teaspoon Bouquet Garni*
2 tablespoons freshly squeezed lemon juice.
4 salmon fillets about 4 ounces each
1 lemon sliced
DIRECTIONS:
In the skillet, combine all ingredients except the salmon. Bring to a simmer over medium heat 275°F and cook for about 10 to 12 minutes to combine flavors.
Place the salmon fillet in the gourmet skillet and reduce to medium-low heat 180° to 200°F. Continue to simmer for approximately 15 minutes. Remove the fillets with a spatula.
Serve with fresh lemon and top with chopped parsley.
NUTRITIONAL BREAKDOWN PER SERVING: Calories 108; Fat Grams 3; Carbohydrate Grams 5; Protein Grams 16; Cholesterol mg 39; Sodium mg 73. 
THE POINT SYSTEM: Calorie Points 1 ½; Protein Points 2; Fat Grams 3; Sodium Points 3; Fiber Points ½; Carbohydrate Points ½; Cholesterol Points 4.