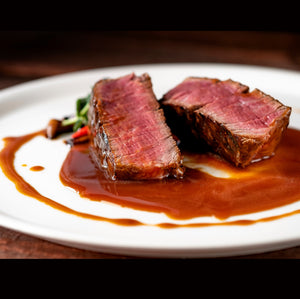 Recipe from Healthy Meat & Potatoes cookbook by Chef Charles Knight
Filet Bordelaise Mignon 
Caramelizing or browning the outer surface of the steak in a heavy high-quality stainless steel sauté skillet is the key to locking in the natural juices and flavor, and as a result, this unique process tenderizes the steak during the finishing process of PAN-BROILING the meat.
EQUIPMENT: measuring spoons, 11-inch covered sauté skillet, or 11-inch gourmet skillet.
PREPARATION TIME: 30 minutes - Makes 4 servings.
INGREDIENTS:
4 (about 3 oz.) filet mignons
Bordelaise Sauce (below - from page 206 Healthy Meat and Potatoes)
1 tablespoon fresh chopped parsley
DIRECTIONS:
Preheat the skillet over medium-high heat at 375°F to Pittsburgh the steak sear in the pan on high heat at 425°. On an induction range, the pan will reach the precise searing temperature within 1 minute, so you must have all ingredients prepared to begin cooking. When using gas or an electric range, allow to preheat for 2 to 3 minutes, then sprinkle a few drops of water in the pan. If the water droplets dance, the pan is hot enough. If the water droplets evaporate the pan is not hot enough. Place the filets in the hot, dry pan. Cover the pan, open the vent, and dry sauté until the filets release easily from the pan, 4 to 5 minutes. Turn the filets, cover the pan, and brown the other side of the filets until they release easily from the skillet, for 4 to 5 minutes. (See 'How the Cook the Perfect Steak' page 100 Healthy Meat and Potatoes).
To serve, place the filet on dinner plates and top with Bordelaise Sauce, chopped fresh parsley, and fried Onion Straws. Serve with Asparagus with Lemon Pepper (Healthy Meat and Potatoes page 134).
BORDELAIS SAUCE
EQUIPMENT: French chef's knife, cutting board, measuring cup and spoons, 11-inch gourmet skillet, whisk, and fine sieve strainer.
PREPARATION TIME: 20 minutes – make about 1 cup (16 tablespoons)
INGREDIENTS: 
1 small shallot or small onion finely minced.
½ medium carrot, diced
½ stalk celery, diced
1 or 2 cloves of garlic, minced.
½ teaspoon dried thyme
½ teaspoon freshly ground black pepper
1 small bay leaf
½ cup Bordeaux or other dry red wine
1¼ cup Low-Sodium Brown Veal or Beef Stock (page 219 of Healthy Meat & Potatoes cookbook).
1 teaspoon fresh lemon juice
1 tablespoon Roux (page 190 Healthy Meat & Potatoes cookbook)
DIRECTIONS:
In a hot, dry gourmet skillet over medium heat 275ᵒF, dry sauté the shallots, carrot, celery, and garlic until slightly browned, 3 to 5 minutes, stirring occasionally.
Slowly stir in the wine. Stir in the parsley, thyme pepper, and bay leaf. Bring to a simmer and cook until reduced by half. Add the stock, lemon juice, and roux and whisk vigorously to incorporate the roux into the sauce. Simmer to desired constancy.
Season to taste, strain through sieve (or not), and serve hot with filet mignon.