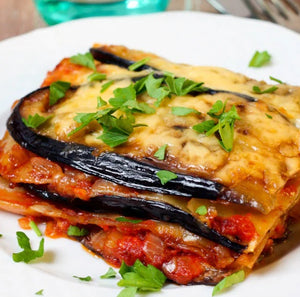 PREPARATION TIME: 1 hour 10 minutes – Makes 6 Servings
EQUIPMENT: chef knife, two 12 x 10 lasagna pans, medium mixing bowl
2 large zucchinis, sliced lengthwise into ¼-inch-thick slices
1 medium eggplant, sliced lengthwise into ¼-inch-thick slices
2 Tbsp. olive oil
1 Lbs. homemade ricotta cheese, or 15oz container
1 whole egg
¼ cup Parmesan cheese, grated #1 cutting cone, divided
3 cups marinara sauce, shredded #2 cutting cone
2 cups mozzarella cheese, divided
DIRECTIONS
Preheat oven to 400°F. Lightly oil Bake & Roast pan. Arrange zucchini and eggplant in, overlapping if necessary. Drizzle with olive oil. Bake 12 minutes or until tender, pat dry.
In medium mixing bowl, combine ricotta cheese, egg and 2 tablespoons Parmesan cheese; set aside.
In the second baking pan, spread ½ cup Marinara Sauce in bottom of pan. Layer 1/3 of the eggplant slices, 1/3 of the zucchini slices, then ½ cup sauce and ½ of the ricotta mixture. Top with 2/3 cup mozzarella cheese; repeat. Top with remaining eggplant and zucchini slices, then remaining sauce and remaining 2 tablespoons Parmesan cheese.
Cover with aluminum foil and bake 30 minutes. Remove foil and top with remaining mozzarella cheese. Bake an additional 10 minutes or until bubbling. Let stand 10 minutes before serving.