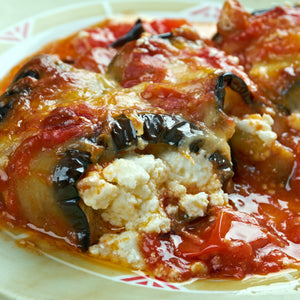 PREPARATION TIME: 1 ½ hours – Makes 5 to 6 servings.
EQUIPMENT: chef's knife, cutting board, stainless cookie sheet, 3.5 Qt. Saucier or 3 Qt. Saucepan, mixing bowls, rotary food cutter, 11.25-inch sauté skillet or oil-core electric skillet, 2 stainless steel pie pans.

1 large eggplant, male*
Kosher salt
SAUCE:
1 tablespoon olive oil
2 teaspoon unsalted butter
1/2 white onion diced #2 cutting cone.
4 garlic cloves, minced fine.
1 6 ounce can, Cento tomato paste
1/2 cup Chianti
1 can (15 ounces) Cento tomato sauce
2 cups plum tomatoes, peeled, seeded, and diced or 1 can (14-1/2 ounces) diced tomato.
2 tablespoons fresh Italian parsley, minced.
1 teaspoon sugar
1 tablespoon Italian seasoning
1/8 teaspoon crushed red pepper flakes.
FILLING
1 (15 ounces) Italian ricotta cheese
4 ounces part-skim buffalo mozzarella cheese, shredded #5 cutting cone
1/2 cup Parmigiano Reggiano cheese, grated fine #1 cutting cone
1/4 cup fresh Italian parsley, chopped.
1 egg, lightly beaten.
COATING
3 eggs, lightly beaten.
1 cup Italian breadcrumbs
1/2 cup Parmesan Reggiano cheese, grated #1 cutting cone
2 garlic cloves minced fine.
2 tablespoons fresh parsley, chopped fine
Olive Oil for frying.
TOPPING
1/2 cup Parmesan Reggiano cheese, grated #1 cutting cone
4 ounces part-skim buffalo mozzarella cheese, shredded #5 cutting cone
Whole or chopped fresh basil.
We are not big fans of peeling eggplant but will leave that up to you. Using a sharp chef's knife, slice the eggplant lengthwise into 12 (or more) 1/8-inch thick slices.
Place a sheet of paper towel on the cookie sheet and place 2 eggplant slices on the paper towel. Salt liberally and cover with a sheet of paper towel. Place 2 eggplant slices, salt, and cover with another sheet of paper towel. Continue to layer paper towel and eggplant 6 to 7 high with a sheet of paper towel on the top and a sheet of wax paper over the paper towel. On wax paper, place 3 or 4 large heavy books, like an encyclopedia, on top of the stack. Salting and pressing will help remove any bitter liquid from within the eggplant.
SAUCE
In the 3.5-quart Saucier sauté onion in olive oil and butter over medium heat (induction 250°F/121°C) until tender, add the garlic and sauté 2 to 3 minutes, until aromatic. Add tomato paste and fry until tomato paste turns Indian red (5-7 minutes), stir often. Tomato paste will leave residue on bottom of pan, be sure to stir to prevent from burning. Deglaze pan with wine and cook down until tomato wine mixture thickens and alcohol is cooked off. Stir in the remaining ingredients. Reduce the heat to medium-low (induction 180°F/82°C); simmer, uncovered, stirring occasionally.
FILLING
In a large bowl, combine the filling ingredients; set aside.
Place the beaten eggs in one pie pan. In the other pie pan, combine breadcrumbs, parmesan cheese, garlic, parsley. Dip eggplant in eggs, then bread crumb mixture.
In the oil-core electric skillet, heat 1/4 inch of olive oil to 375°F. Fry eggplant in batches for 2-3 minutes on each side or until golden brown. Drain on paper towels.
While preparing the eggplant, allow the electric skillet to cool, and pour off excess oil. Reduce heat simmer (180°F/82°C). Just before adding the eggplant, place about 1 cup of sauce to cover the bottom of the electric skillet.
Spread about 2 tablespoons of filling over eggplant slice and roll up, placing the seam down in baking dish. Use a toothpick, if necessary, to keep together. Spoon remaining sauce over roll-ups. Sprinkle with remaining Parmesan and Mozzarella cheese. Cover and bake for 20-25 minutes. Or, using a baking dish, bake in a 375°F oven for 30-35 minutes or until bubbly.
Nutritional Facts: 2 Rollatini equals 726 calories, 48 g fat (15 g saturated fat), 181 mg cholesterol, 3,182 mg sodium, 44 g carbohydrate, 7 g fiber, 35 g protein.
*Male eggplant will have far less seeds and be less bitter than a female eggplant. To identify, look at the bottom, the male will protrude out slightly and the female will have an indent.