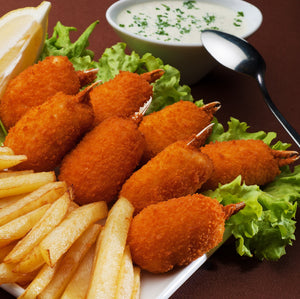 Deviled Crab (croqueta de jaiba in Spanish) is a croquette originating in the early 1900's in the Spanish, Cuban and Italian immigrant community of Tampa's Ybor City. Typically served as a snack or lunch food doused with good helping of your favorite hot sauce. Since deviled crabs are packed together more densely than a crab cake so as to not come apart easily they can be held in one hand leaving the other hand free to wash it down with an ice cold beer.
Tampa has a diversified cuisine rich in culinary history. In many ways far more interesting than even New Orleans and many other cities known for their food. Beside Deviled Crab, a number well-known dishes were crafted in the Tampa Bay area; the Cuban Sandwich, Spanish Bean Soup, the Grouper Sandwich, the Bloomin' Onion, the Big Guava, Pulled Pork with black beans and yellow rice, and Tostones to name a few.
Enjoy, Chef Charles Knight
EQUIPMENT: Electric Food Processor, large sauté skillet or Deep Fryer
CROQUETTE INGREDIENTS
1 loaf stale Cuban bread
3 loaves stale white sandwich bread crust removed.
1 tablespoon paprika
DIRECTIONS
The Cuban bread should be hard. Cut to fit into electric food processor and grind as fine as possible, then sift through a medium sieve to the consistency of a coarse flour. Add the paprika to the flour and mix well to combine.
Soak white bread in filtered purified water (do not use chlorinated tap water) for about 15 minutes. Drain and squeeze all the water out until it is a semi-dry dough ball.
Add the coarse Cuban bread flour a little bit at a time and work into the white bread dough ball. When the doughball is formed refrigerate for 2 to 3 hours or overnight.
CRAB FILLING
2 tablespoons olive oil
2 tablespoons unsalted butter
3 Spanish onions minced.
½ Red pepper mined
4 cloves garlic minced fine.
1 tablespoon Italian crushed hot red peppers.
2 bay leaves
½ teaspoon sugar
6 ounces tomato paste
¼ cup of a good white wine (Chardonnay)
1-pound fresh crab meat shredded, picked over
2 whole eggs well beaten. Room temperature.
½ cup milk Room temperature.
1 cup cracker meal
½ cup all-purpose flour
Oil for frying
In the skillet sauté the onions, red pepper, and garlic over medium heat 275ᵒF in olive oil and butter until translucent, about 15 minutes. Stir as needed. DO NOT allow the onions to brown or burn. When cooked add the crushed red peppers, bay leaves, sugar, and tomato paste. Cook until the paste is slightly browned, about 12 to 15 minutes. Stir as needed to prevent sticking.
To deglaze the pan add the white wine and stir. Allow the alcohol to burn off, then add the crab and mix well to combine. Reduce the heat to low 200ᵒF and continue to cook for about 20 minutes. Stir occasionally.
Place crab and tomato paste mixture into a bowl, cover with saran wrap and refrigerate for 1 to 2 hours.
ASSEMBLE THE CROQUETTES:
Using a (1 Tablespoon) measuring spoon place 3 tablespoons bread dough in the palm of your left hand and press together. With the back of the measuring spoon make an indent and fill with 1 tablespoon of crab meat filling. Work the dough around the filling to form into a croquette. Set croquettes on a tray or serving platter.
EGG WASH and CRACKER/FLOUR COATING
In a mixing bowl beat 2 eggs vigorously. Add wine and a pinch of salt and pepper. Mix well.
In the other mixing bowl combine cracker meal and all-purpose flour. Mix well.
With your left hand (wet hand) dip the croquettes in egg mixture. With your right hand (dry hand) roll croquette in cracker meal flour mixture. Place side by side on a dish or baking pan. Cover with Saran Wrap and refrigerate for 1 to 2 hours before deep frying, or they can be frozen for later use.
When ready to fry, heat oil in a deep heavy saucepan or a deep fryer to 350 degrees. Place croquettes a few at a time in the hot oil, and fry until light brown, about 5 to 7 minutes.
Croquettes should be thawed or partially thawed before deep-frying. Best temperature for deep-frying croquettes is between 325ᵒF and 350ᵒF.
FRYING OIL: When it comes to cooking oils, olive oil is known as the healthiest option. It is less processed, rich in antioxidants, and its benefits are backed by extensive medical research (via Healthline). If you are planning to fry something up but want to cut a few calories, your first thought might be to reach for the olive oil.
However, contrary to popular belief, there is no such thing as a healthy oil. Oil is Oil. The difference between one oil or another is strictly the "Smoke Point", the point where the oil begins to breakdown and burn.