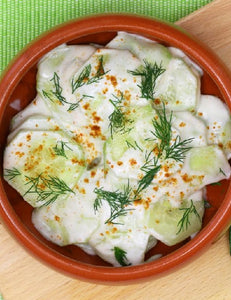 EQUIPMENT: French chef's knife or food cutter, cutting board and salad bowl. Order your Health Craft Kitchen Machine Rotary Food Cutter HERE! Or clickon photo. Enter code WEBPROMO in the discount code area at checkout for an additional discount.  Scroll down for video.
PREPARATION TIME: 1 hour 10 Minutes - Makes 7 to 8 servings
1/2 cup sour cream
1 teaspoon sugar (optional)
2 tablespoons white wine or rice wine vinegar
1 teaspoon olive oil
1 English cucumber waffle cut #5 cutting cone blade
1 medium onion, julienned #2 cutting cone blade
1/4 cup fresh dill chopped
1 teaspoon Paprika
In a mixing bowl, combine sour cream, sugar, vinegar and olive oil. Mix well. To the salad dressing add cucumbers and onion and toss to combine. Cover and chill for a least 1 hour before serving.
To serve, top with fresh dill and sprinkle of paprika.