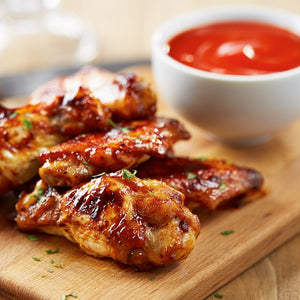 Get ready to tantalize your taste buds with our delicious Southern Barbecued Chicken recipe! With juicy and tender chicken thighs, legs, and breasts, pan-broiled, then infused with flavor in a special barbeque sauce, making it a mouth-watering treat that you won't be able to resist. Serve it with a side of Mac and Cheese, and Cole Slaw and enjoy a meal that's both comforting and satisfying. Don't wait any longer to try this amazing recipe - your taste buds will thank you!
This recipe can be prepared with chicken wings, thighs, legs, and breasts individually or with a whole chicken cut up. In this recipe, we will use whole chicken.

PREPARATION: 45 minutes – makes 6 to 8 servings
EQUIPMENT: cleaver, chef knife, cutting board, large salute skillet with ultra-temp lid.
INGREDIENTS:
2 chicken breast halves, bone-in skinless or with skin
2 chicken legs, bone-in skinless
2 chicken thighs, bone-in skinless
2 medium onions diced.
2 cloves garlic minced.
2 tablespoons tomato paste
2 cups of freshly brewed coffee
½ cup apple cider vinegar
2 tablespoons Worcestershire sauce
1 cup packed light brown sugar.
¼ teaspoon red pepper flakes
¼ teaspoon Dijon mustard
¼ teaspoon ground cinnamon (optional)
1 tablespoon minced fresh rosemary.
1 tablespoon chopped fresh parsley.
DIRECTIONS:
Cut up chole chicken with a cleaver or use pieces already cut up. Remove the skin.
Begin with chicken that is nearly room temperature. To sear, preheat the large skillet over medium-high heat 325ᵒF to 350ᵒF. When using Ultra-Tech II cookware cover the skillet with the whistle valve closed. When the Ultra-Temp temperature gauge registers between 160ᵒF to 195ᵒF, the pan is hot enough to begin searing the chicken. Remove the cover and place the chicken in the skillet, pressing it against the bottom of the pan evenly. Poultry will stick at first (no oil is necessary) but will loosen when seared properly, about 7 to 8 minutes per side. Turn when it loosens and sear the other side.
Test for doneness by inserting the Ultra-Temp temperature gauge into the center of the chicken breast. The USDA recommends safe internal temperature for chicken is a minimum of 165ᵒF. Remove the chicken to a warm platter and keep warm.
Reduce the skillet to medium heat 275ᵒF. Add the onion and garlic and sauté in the chicken drippings until slightly browned, 3 to 4 minutes stirring occasionally. Add the tomato paste and stir until the paste turns a reddish brown in color, about 5 minutes. Do not allow the residue that forms on the bottom of the skillet to burn.
To deglaze the skillet, slowly pour the coffee into the skillet. Add the remaining ingredients, except the parsley, and stir to combine. Return the chicken to the skillet and reduce the heat to medium-low 180ᵒF. Cover the skillet, close the vent, and simmer for 10 to 15 minutes. Do not boil.
SERVING:
Top the chicken with barbecue sauce, sprinkle with parsley, and serve with baked beans and fresh corn on the cob cooked the waterless way.
NUTRITIONAL BREAKDOWN FOR SKINLESS CHICKEN, PER SERVING: Calories 238, Fat Grams 4; Carbohydrate Grams 23; Protein Grams 27, Cholesterol mg 89, Sodium mg 160.
Cooking for a Longer Healthier Life cookbook by Chef Charles Knight page 66