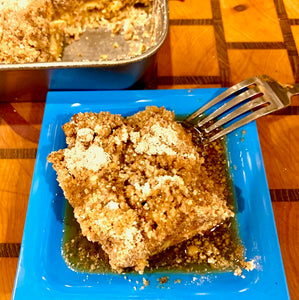 FRENCH TOAST CRUMBLE CASSEROLE – New Jersey Style
EQUIPMENT: Mixing bowls and spoons, 8 x 10 baking pan.
PREPARATION: 1½ hours – Makes 4 to 6 servings
FRENCH TOAST INGREDIENTS
½ loaf bread toasted, about ½ pound
4 eggs beaten
½ cup Milk
½ cup sour cream
2 tablespoons unsalted butter, softened
½ cup brown Sugar
2 teaspoons Vanilla Extract
1 teaspoon Cinnamon
INSTRUCTIONS
Toast the bread as light or dark as you like and place in 8x8 square baking pan. I like it dark almost burnt. Toasting enhances the flavor of the bread.
In the mixing bowl add beaten eggs, milk, sour, softened butter, brown sugar, vanilla extract, and cinnamon, and mix well to combine. Pour the egg mixture over the bread, cover, and place in the refrigerator for 1 hour or overnight.
TOPPING INGREDIENTS:
½ cup brown sugar
1 teaspoon cinnamon
1 stick unsalted butter, soft room temperature
1 cup all-purpose or cake flour
½ cup powdered sugar for topping
Maple syrup
INSTRUCTIONS
In a mixing bowl, combine sugar and cinnamon. Mix well.
Add the softened butter and combine with a fork. If you add the flour before the butter the butter absorbs into the flour instead of the sugar.
Add the flour and mix with a fork. You want the CRUMB to be crumbly, so do not overmix...
Top the French Toast mixture with CRUMB mix and gently press it into the mix.
BAKING:
Preheat the oven to 350ᵒF and bake for 40 minutes
Remove from oven and set aside to cool slightly.
Dust with powdered sugar. Serve warm or allow to cool.
Top with Maple Syrup and serve with crispy bacon