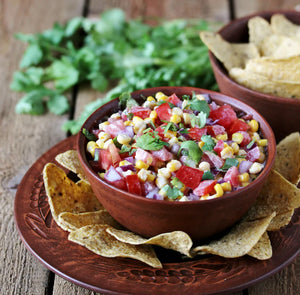 This New Jersey fresh Silver Queen white corn and Jersey Tomato SALSA is the perfect summer appetizer! It is made simply with cooked or uncooked sweet corn, onion, jalapeño, cilantro, lime, and a dash of cumin (avocado is optional).
Notorious Jersey Grown Tomatoes: Weather and sandy loam soil are ideal conditions for growing tender, juicy, and flavor-filled tomatoes. The majority of New Jersey tomatoes sold at local farmers' markets and roadside stands are grown on small family-owned farms.
Jersey Silver Queen Sweet Corn, also grown on small family farms and sold at roadside stands, is the most delicious corn you will ever enjoy. Like Jersey tomatoes, the weather and rich soil coupled with the absolute best land management produce sweet corn to die for.
PREPARATION: 1 Hour -makes about 4 cups
EQUIPMENT: chef's knife, cutting board, 3-Quart Stainless Steel Mixing Bowl,
INGREDIENTS: 
3 or 4 cobs of about 1 cup of fresh Jersey sweet corn
2 limes juice thereof.
¼ teaspoon cumin
1 large Jersey tomato diced.
½ red onion diced, about 1 cup
3 cloves garlic minced fine and crushed to release oils.
¼ cup cilantro chopped fine
1 to 2 jalapenos seeded and diced.
1 tablespoon apple cider vinegar
Salt and pepper to taste
Optional: 1 diced ripe avocado
INSTRUCTIONS
New Jersey Silver Queen White Corn is so sweet and tender that it does not require cooking, just 30 minutes to macerate in lime juice is all that is necessary.
Add the cumin and toss, then add the Jersey tomatoes, onion, garlic, cilantro, jalapenos, and apple cider. Toss and cover and let sit for about 20 minutes.