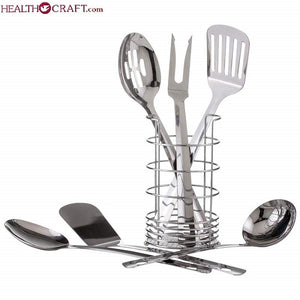 This COMMERCIAL Quality Kitchen Tool SET is popular with professional chefs and home cooks. Includes Stainless Steel Holder. Dishwasher safe HEAVY DUTY 18/8 Stainless Steel
The Commercial KITCHEN TOOL SET includes a meat fork, slotted spatula, solid spatula, slotted spoon, solid spoon, ladle, and open wire caddy for easy drainage. Tools and caddy made of heavy 18/8 stainless steel polished to a mirror finish.
Dimensions: 13.25" Length, 4.50" Width, 4.50" Height
Weight: 1.90 Lbs.
Need help. Text or call 1-813-390-1144 
"I purchased 3 sets many years ago. Two for our mom-and-pop luncheonette and one for the house. At the end of the workday, we put the set in the container and put it in the dishwasher. The next morning, they are clean and sanitized ready for another day. Excellent quality." B. Cartinella NJ