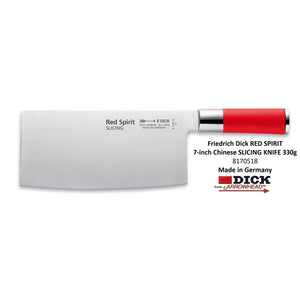 We are thrilled to introduce the RED SPIRIT SERIES Cleaver, now available for both professional chefs and home cooks. Handcrafted in Germany, these cleavers feature an Asian Style Non-Slip Textured Poly Oval Shaped Handle, providing an excellent grip and control during use. The blades are made of 420 stainless-steel and have a satin finish, ensuring long-lasting sharpness. The full tang construction of the knife offers superior strength and durability. The RED SPIRIT SERIES Cleaver is designed with uncompromising sharpness and precision, making it ideal for any kitchen. The slim grinding and polished cutting edge of the blade give you an extraordinary cutting experience. The round, Asian-style handle of the knife offers an exceptional sense of touch, making it comfortable to use for extended periods. Experience the inspiration and passion emerging from this knife series with RED SPIRIT SERIES Cleaver.

Friedrich Dick has focused on sharpness since 1778: a success story that began with a small file cutter workshop in the southern German town of Esslingen. Today, we manufacture a complete product range for professional chefs and butchers as well as the discriminating home cook.
Strict quality criteria and high design standards characterize the traditional brand for professionals, which is now finding its way into home kitchens worldwide. Every Friedrich Dick knife is made of the highest quality steel and impresses with perfectly balanced blades as well as ergonomically shaped handles for perfect cutting results.