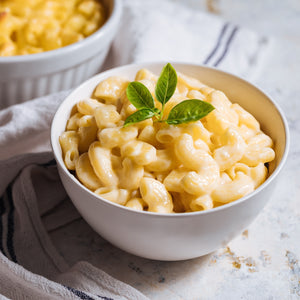 Mornay Sauce: Add a shredded white cheese, typically a Swiss or a Gruyere, to a Bechamel Sauce. Add shredded Swiss or Cheddar to a Bechamel to create the sauce for your Mac and Cheese. Serve sparingly to enhance the flavor of lobster, shrimp, scallops, fish, pasta and vegetables.

It has been reported that Morney Sauce may have been named in honor of the governor of Saumur of the Loire région, western France, Phillippe, duc de Mornay. However, at the time of his reign (1549-1623) there is no record of a white cream sauce (Bechamel) having been invented. On the other hand, at that time it was common for a white sauce made from a light stock (chicken or pork) to be combined with a roux to create a velouté sauce. So, although it is possible the cheese would have to be added very slowly so as not to separate.
Classic Mornay Sauce 
EQUIPMENT: Measuring cup and spoons, 9-inch gourmet skillet and whisk, Rotary Food Cutter
PREPARATION TIME: 10 minutes – Makes about 1 cup
¾ cup Classic Béchamel Sauce
2 tablespoons Chardonnay or other dry white wine
½ cup shredded Gruyere or Swiss cheese, cutting cone #2
3 tablespoons freshly grated Parmesan or Roman cheese, cutting cone #1
Combine all the ingredients in a hot 9-inch gourmet skillet over medium heat 270°F (132°C). Whisk until the sauce thickens, 5 to 7 minutes.
Classic Mornay Sauce per Tablespoon: 21 Calories - 1.5g Fat (58% calories from fat) - 1.2g protein - 0.9g Carbohydrates - 6mg Cholesterol | 24mg Sodium