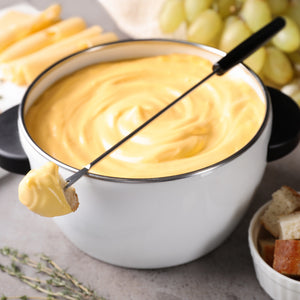 Recipe temperatures adapted for induction cooking.
INGREDIENTS:
2-cups (480 ml) dry white wine
1-tablespoon fresh squeezed lemon juice
1-pound (460 g) Gruyere cheese, shredded #2 blade
1-pound (460 g) Fontina cheese, shredded #2 blade
1-tablespoon arrowroot
2-ounces (60 ml) Kirsch (optional)
1-pinch nutmeg
1-loaf French bread, cubed
4-pears cut in wedges
4-apples cut in wedges
Combine wine and lemon juice in 2 quart Saucepan (2 L) and bring to a simmer over medium-low heat (225°F/110°C).
In the 5-quart Mixing Bowl, toss cheese with arrowroot and gradually add cheese mixture to wine, stirring constantly. When cheeses are melted, stir in kirsch and reduce the heat to serving temperature (180°F/82°C).
To Serve; Sprinkle with nutmeg and serve with French bread, apples and pears.