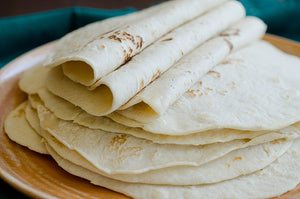 Flour Tortillas
Yields: 12-7 (18 cm) inch tortillas
Preparation Time: 45-50 minutes
Equipment: French chef knife, Cutting Board, large stainless Mixing Bowl, small stainless Mixing Bowl, 10-inch Gourmet Skillet
TORTILLAS
2 cups all-purpose-flour

¼ cup cold vegetable shortening cut into piece

1 teaspoon salt

2/3 cups warm water
In the large Mixing Bowl blend flour and shortening until the mixture resembles a meal.
In the small Mixing Bowl stir together salt and 2/3 cups warm water, add warm salted water to flour mixture and toss mixture until water is incorporated. Form dough into a ball and knead it on a lightly floured surface for 2-3 minutes, or until smooth. Divide dough into 12 equal pieces, for each piece into a ball, and let dough stand, covered with plastic wrap, for at least 20 minutes.
On a lightly floured surface roll one ball of dough at a time into a 7 to 8 inch round.
Preheat 10-inch Gourmet Skillet over medium-high heat for about 2-3 minutes. Place the tortilla in the pan, turning it ounce, for 1-2 minutes or until it is puffy and golden on both sides. Remove and wrap tortilla in a kitchen towel. Repeat the process of rolling and cooking with the remaining tortillas. Continue to wrap each one, stacking and enclosing them in a towel as they are done. Tortillas may be made in advance and kept chilled in a Zip Lock bag.
TO WARM TORTILLAS
If tortillas are very dry, pat each tortilla between dampened hands before stacking. Stack in skillet, cover, and place over warm burner 10 minutes.
NUTRITIONAL BREAKDOWN PER SERVING: Calories 114; Fat Grams 4; Carbohydrate Grams 16; Protein Grams 2; Cholesterol mg 0; Sodium mg 178.
THE POINT SYSTEM: Calorie Points 1 ½; Protein Points 0; Fat Grams 4; Sodium Points 8; Fiber Points 0; Carbohydrate Points 1; Cholesterol Points 0.