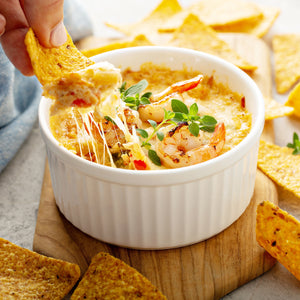 Food historians claim that Crab Dip is an American invention originating with Maryland crabs. That sounds about right but there are a number of diverse types of crab you can use for this recipe. Alaska Dungeness crab is always an excellent choice. Of course, Maryland crab will always be an excellent choice. Interestingly enough, living in both Maryland during my Navy time and now in Florida for the last 40 years I actually prefer the sweeter Tampa Bay crab trapped right off our dock. However, a canned crab will always do in a pinch. No pun intended. Maryland and Florida's crabs are of the same species. 
PREPARATION: 25 minutes – makes 4 servings
EQUIPMENT: 2-quart saucepan or mixing bowl, Food Cutter, ramekin if broiling
INGREDIENTS:
½ cup Parmesan cheese, grated cutting cone #1
1 cup mayonnaise
1 cup cream cheese. Softened to room temperature.
Juice of ¼ fresh lemon
1 can of Cento artichoke hearts drained and chopped.
6-ounce can of lump crab meat
1 green onion, chopped.
½ teaspoon cayenne pepper or Old Bay Seasoning
Tortilla Chips
DIRECTIONS
In the 2-quart saucepan, combine Parmesan cheese, mayonnaise, cream cheese, and lemon juice and mix well. Fold in the chopped artichokes hearts and crab but do not overmix.
In the pan: Warm over low heat 180ᵒF to 200ᵒF and cook for about 8 to 10 minutes. Anything higher than low heat may cause the dip to burn or scorch.
Under the broiler: Alternatively, combine all ingredients in a mixing bowl according to directions. Spoon into a ramekin and place under the broiler and bake for 5 to 7 minutes or until the top is brown and slightly crisp. It can also be topped with any shredded cheese as well and baby shrimp. 
SERVING
From the 2-quart, spoon crab mixture into a serving bowl, top with green onions, and sprinkle with cayenne pepper or Old Bay Seasoning. Serve with tortilla chips.
NUTRITIONAL BREAKDOWN PER SERVING: Calories 59; Fat Grams 1; Carbohydrate Grams 9; Protein Grams 4; Cholesterol mg 13; Sodium mg 527.