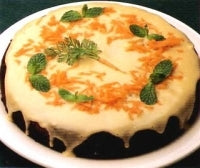 CARROT CAKE
1¾ cup all-purpose flour

1¾ cup sugar

½ cup oat or wheat bran

1 teaspoon baking powder

1 teaspoon baking soda

1 teaspoon cinnamon

3 cups carrots, shredded cone #1

2/3 cup (160 ml) oil or applesauce

3 egg whites

¼ cup (60 ml) corn syrup or simple syrup
Coat Large Skillet with cooking spray or melted unsalted butter…
Combine flour, sugar, oat or wheat bran, baking powder, baking soda, and cinnamon. Add grated carrots, cooking oil (or applesauce), egg whites, and corn syrup. Beat with an electric mixer until thoroughly mixed. Pour batter into Large Skillet, cover (close vent) and bake on top of the stove on low heat for 45-55 minutes. Test for doneness with a toothpick. To remove cake from pan, shake the skillet to loosen from sides and bottom, invert over cake plate. Allow to cool before frosting.
CREAM CHEESE FROSTING
½ cup fat-free cream cheese

3¼ cups powdered sugar, separated

2 teaspoons vanilla

½ teaspoon fresh lemon zest, grated blade #1 (or orange zest)
In a mixing bowl, combine cream cheese, 2 cups powdered sugar, vanilla and lemon zest with an electric mixer at medium speed. When thoroughly combined, gradually add the remaining 1 ¼ cups of powdered sugar. Frost carrot cake, sprinkle with shredded carrots and top with mint leaves.
NUTRITIONAL BREAKDOWN PER SERVING: Calories 338; Fat Grams 9; Carbohydrate Grams 63; Protein Grams 3; Cholesterol mg 1; Sodium mg 158.
THE POINT SYSTEM: Calorie Points 5; Protein Points 0; Fat Grams 9; Sodium Points 7; Fiber Points 0; Carbohydrate Points 4; Cholesterol Points 0.