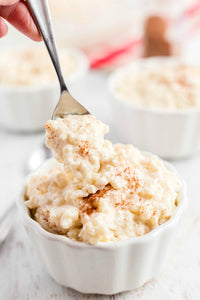 Christmas Rice Pudding
Chef Charles Knight - Named for my first Chef Instructor William Christmas
Equipment: 3 Qt. Stainless Steel Saucepan, measuring spoons and cup, bowl and whisk, spatula
Ingredients
2 cups whole milk
2 cups half-n-half
1 tablespoon unsalted butter
1/2 cup sugar
1/2 teaspoon salt
¾ cup long grain white rice
2 egg yolks
1½ teaspoons vanilla extract
1 cup heavy whipping cream
2 teaspoons Garam Masala or Nutmeg
Instructions
In a 3 Qt. stainless steel saucepan, combine milk, Half-n-Half, butter, sugar, salt, and rice. Bring to a simmer over medium heat 280°F until bubbles form. Stir occasionally to prevent sticking and/or lumping.
Reduce heat to low 180°F; cover and close the vent; simmer for about 45 minutes until rice is cooked, stirring occasionally.
Stir in the egg yolks and vanilla. Mix well. Cover and set aside to cool slightly, about 15 minutes. Refrigerate until well chilled, about 3 hours, or overnight.
To serve: beat 1 cup of heavy whipping cream into soft peaks. With a spatula, fold cream into pudding; spoon into dessert dish; sprinkle with Garam Masala or Nutmeg.
NOTE: Garam Masala is a spice consisting of: Cumin, Coriander, Green and Black Cardamom, Cinnamon, Nutmeg, Cloves, Bay leaves, Peppercorns, Fennel, Mace, and dried Chilies. Combinations and variations are endless. These spices are typically toasted whole, then ground down into a fine powder. Available in most grocery stores.