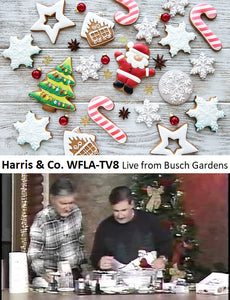 Cookie History by Chef Charles Knight
Articles on the internet claim the first cookies were "test-cakes" bakers used to assess oven temperature. This theory dates back to 7th Century A.D. Persia and the empire of Cyrus the Great, the first country to cultivate sugar cane. Makes since.
The oldest historical edible cookie was the Pizzelle originating in Colcullo, in the Italian region of Abruzzo 85 miles east of Rome. Baked in commemoration of the "Festival of the Snakes" also known as the "Feast Day of San Domenico." Italy also takes credit for creating the Ricciarelli, Baci de Dama, Chocolate-Pistachio Biscotti, Savoiardi, Canestrelli, and the most famous Amaretti an almond-flavored biscotti all first made during the Middle Ages.
With exploration sugar baking cookies was commonplace in the Mediterranean and European countries in the 14th century. With the invention of the printing press in 1441 cookbooks from the Renaissance in the 15th and 16th century were chockful of cookie recipes. One particular popular type of cookie during Elizabethan England 1558 to 1603 was a square cookie made with egg yolks and spices and baked on parchment paper, most likely Gingerbread.
The earliest reference to cookies in America is in 1703 New York City's famous sugar cookie simply made by creaming sugar and butter together,
Animal Cracker came to the U.S.A. from England United States in 1800's and were first just called "Animals".
In Whitman, Massachusetts in 1938 Ruth Wakefield of Toll House restaurant fame published her "Tried and True" cookbook including her soon to be famous Chocolate Chip cookie recipe, intended to be served with ice cream.
Samuel J. Porcello an American food scientist who worked at Nabisco for 34 years, where he invented the "Oreo Biscuit" produced by the National Biscuit Company (today known as Nabisco) in 1912 at its Chelsea, New York City factory in the present-day Chelsea Market complex, located on Ninth Avenue between 15th and 16th Streets. Today, this same block of Ninth Avenue is known as "Oreo Way".