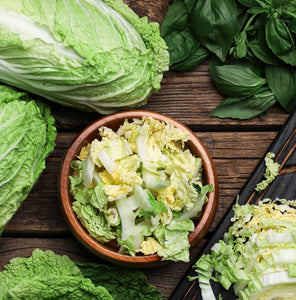 PREPARATION: 25-30 minutes – makes 8 to 10 servings
EQUIPMENT: Kitchen Machine food cutter, French chef knife, Cutting Board, 11-inch Gourmet Skillet, 1-quart Saucepan, Large Salad Serving Bowl.
2 tablespoons unsalted butter
6-ounces (2 packages) Ramen noodles, crushed
¼ cup sliced almonds
1 tablespoon sesame seeds
¼ cup vinegar
½ cup sugar
¼ cup (60 ml) oil
2 tablespoons soy sauce
1 head Napa cabbage chopped #3 blade.
1 bunch of green onions, chopped.
DIRECTIONS:
In an 11-inch gourmet skillet melt butter over medium heat. Add Ramen noodles, almonds, and sesame seeds. Brown slowly. Set aside and allow to cool completely.
In a 1-quart saucepan combine vinegar, sugar, oil, and soy sauce and bring to a simmer over medium heat. Remove from heat and set aside.
Place cabbage and onion in salad serving bowl. Add cooled Ramen noodle mixture and dressing. Toss and serve.
NUTRITIONAL BREAKDOWN PER SERVING: Calories 214; Fat Grams 13; Carbohydrate Grams 23; Protein Grams 5; Cholesterol Grams 13; Sodium Grams 331.
THE POINT SYSTEM: Calorie Points 3; Protein Points 1; Fat Grams 13; Sodium Points 14; Fiber Points 2; Carbohydrate Points 1 ½; Cholesterol Points 1.