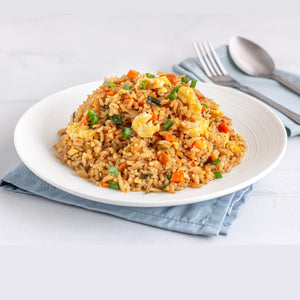 PREPARATION TIME: 35 minutes – Serves 6
EQUIPMENT: French chef knife, Cutting Board, Kitchen Machine food cutter, 2-quart Saucepan
INGREDIENTS:
½ cup onion, peeled and chopped #2 blade
2 cups (480 ml) chicken broth, or homemade chicken stock (see Stocks & Sauces)
1 tablespoon dry Sherry, or dry white wine
1 tablespoon soy sauce
1 teaspoon sesame seed oil
1 cup uncooked long grain or brown rice
½ cup green onions, diagonally sliced
1 tablespoon pine nuts, toasted.
DIRECTIONS:
In the 2-quart (2 L utensil) Saucepan over medium heat, dry sauté onion until tender, about 2-3 minutes. Add chicken stock, sherry, soy sauce, sesame seed oil and bring to a boil over medium-high heat. Stir in rice, cover (vent closed) reduces the heat to low, cook 25-30 minutes, or until rice is tender and liquid is absorbed. Remove from heat, stir in green onions, and pine nuts.
NUTRITIONAL BREAKDOWN PER SERVING: Calories 86; Fat Grams 2; Carbohydrate Grams 1; Protein Grams 3; Cholesterol mg 0; Sodium mg 432.
THE POINT SYSTEM: Calorie Points 1; Protein Points 0; Fat Grams 2; Sodium Points 19; Fiber Points 0; Carbohydrate Points 2; Cholesterol Points ½.