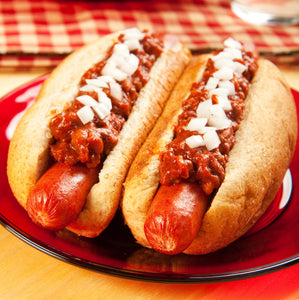 Are you a fan of Chili Dogs and want to take your game to the next level? We have the perfect hot dog chili recipe that will leave your taste buds wanting more.
To make this delicious chili, you'll need ground beef, onion, garlic, tomato sauce, tomato paste, chili powder, cumin, paprika, Worcestershire sauce, and a few other ingredients. Simply brown the beef with the onion and garlic, add in the rest of the ingredients, and let it simmer for about 30 minutes.
This recipe is perfect for any occasion, whether it's a backyard BBQ or a family dinner. Your friends and family will be impressed by your culinary skills, and you'll never have to settle for boring store-bought chili again. So, grab your apron and get ready to impress with our hot dog chili recipe.
PREPARATION: 45 minutes – makes servings for 16 to 20 hot dogs
EQUIPMENT: Large skillet with a lid, measuring cups, and spoons.
PREPARATION:
2 tablespoons unsalted butter
1 onion chopped.
4 cloves garlic minced.
4 tablespoons tomato paste (¼ cup)
1 pound ground beef to 1½ pounds if not using ground pork.
½ pound ground pork (optional)
1 cup beef broth
¼ cup tomato sauce (4 tablespoons)
¼ cup ketchup (4 tablespoons)
2 teaspoons cumin
2 teaspoons

chili powder

1dash Worcestershire sauce

Salt and pepper to taste
DIRECTIONS:
In the large skillet sauté onions and garlic in unsalted butter over medium heat 275ᵒF until slightly brown. About 5 to 7 minutes. Stir occasionally.
Add the tomato paste and combine with onions and garlic. Continue to cook until the tomato paste turns Indian red in color. Cook for about 5 to 7 minutes. Stir occasionally to prevent the fond that forms on the bottom of the pan from burning.
Add ground beef and pork and break it up with a wooden spoon. Cover with the vent closed. This will cook and steam the meat creating the beginning of the sauce. About 5 to 7 minutes. Remove the cover three or four times to stir and combine.
Add the beef broth, tomato sauce, ketchup, cumin, chili powder, and Worcestershire sauce. Stir to combine. Reduce to medium-low heat 175ᵒF to 200ᵒF. Simmer with the lid on and vent closed, for about 30 minutes.
Looking for the perfect chili recipe to top off your hot dogs? Look no further! Our hot dog chili recipe is sure to impress.
Serve on hot dogs, hamburgers, French fries, or Nachos with cheese sauce. Top with chopped onions.