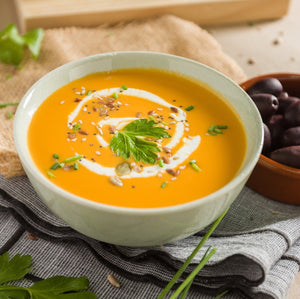 Chickpea Soup with Cumin and Cilantro 
Sopa de Garbanzos'
Serves 6, Preparation Time: 40 minutes.
Equipment: Chef Knife, Kitchen Machine food cutter, 3-quart Saucepan, Food Mill or Blender
1 ½ cups cooked chickpeas.
1 onion, coarsely chopped, #3 French fry blade.
1 ½ teaspoons cumin seeds, ground fine
4 cups (1 L) low sodium beef or chicken stock (see homemade stocks)
1 tablespoon flour (whole wheat optional)
3 tablespoons unsalted butter
½ cup (120 ml) light cream, * or half and half
Sea or Kosher salt & pepper to taste (optional)
2 tablespoons cilantro, chopped.
In the 3-quart saucepan combine chickpeas, onion, cumin, and stock. Bring to a slow boil. Reduce heat and simmer for 20 minutes. Pour the mixture in food mill or blender and return to the pan. (If in a blender, low speed and with measuring cup cap removed).
In a separate bowl, make a paste by mixing flour and 2 tablespoons softened butter and add to the soup mix in a small amount at a time. After each addition, whisk until smooth. Simmer over low heat for 10 minutes.
Add the remaining 1 tablespoon of butter and cream while stirring. Add salt and pepper to taste. Serve in individual bowls and garnish with cilantro.
*To reduce fat, omit cream
Nutritional Breakdown Per Serving: Calories 220; Fat Grams 14; Carbohydrate grams 7; Cholesterol mg 25; Sodium ms 266.
The Point System Per Serving: Calorie Points 2; Protein Points 1; Fat Grams 14; Sodium Points 12; Fiber Points 2; Carbohydrate Points 1; Cholesterol Points 1.