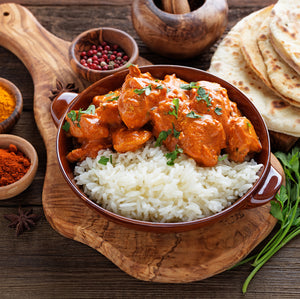 PREPARATION: 15 minutes (marinate 2 hours) – makes 6 servings
EQUIPMENT: French chef knife, Cutting Board, Kitchen Machine food cutter, Filet knife, 3-quart Stainless Mixing Bowl, Large Skillet, Ultra-Vac for the marinade
CHICKEN
3 breasts boneless skinless
MARINADE
½ cup yogurt
1 teaspoon paprika
½ teaspoon cayenne pepper
1 teaspoon of sugar
1 teaspoon pepper, freshly ground.
1 teaspoon cumin, freshly ground.
1 teaspoon coriander, freshly ground.
3 cloves garlic, minced.
1 teaspoon fresh ginger grated #1 blade.
3 tablespoons vinegar
2 tablespoons tomato paste
2 tablespoons olive oil
DIRECTIONS:
With a Filet knife, score chicken to the bone every ½-inch (1.5 cm).
In a large Ultra-Vac or stainless-steel mixing bowl, combine the marinade ingredients. Mix well and add chicken to the marinade, cover, and refrigerate for 2 hours in the Ultra-Vac or up to 24 hours in the mixing bowl with a tight lid.
TO COOK: Preheat the Large Skillet over medium or medium-high heat to 375ᵒF, about 3 minutes. Test the surface with a few water droplets. If the droplets bead up and dance across the surface, the pan is hot enough to brown the chicken and seal in the juices. Place the chicken in the pan; it will stick at first while browning. Cover the pan and open the vent. When the chicken loosens, for about 10 to 12 minutes, turn it and brown on the other side. About 4 to 5 minutes.
Deglaze the pan with the marinade and cook for about 2 to 3 minutes. Remove from heat.
SERVING:
Place in a serving dish cover with sauce and serve with rice.
NUTRITIONAL BREAKDOWN PER SERVING: Calories 286; Fat Grams 12; Carbohydrate Grams 3; Protein Grams 40; Cholesterol mg 118; Sodium mg 141.
THE POINT SYSTEM: Calorie Points 4; Protein Points 6; Fat Grams 12; Sodium Points 6; Fiber Points 0; Carbohydrate Points 0; Cholesterol Points 12.