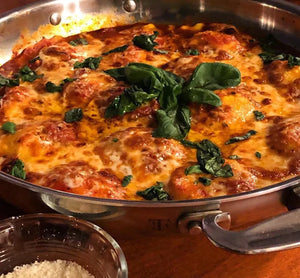 EQUIPMENT: 13-inch Karahi Casserole Pan
Serves Six
Pollo Parmigiana, (Chicken Parmesan), is one of our most requested family recipes, prepared with breaded chicken breast smothered in homemade Salsa di Pomodoro (tomato sauce), topped with mozzarella, parmesan, or provolone cheese, and then baked. A slice or prosciutto can be added.
The dish originated from Italians who migrated to the northeast USA beginning in the late 1800's making changes with regionally available ingredients. "Chicken Parm is a rendition of the original Italian recipe, melanzane alla Parmigiana (made with a shallow or deep-fried sliced eggplant), replaced with breaded chicken cutlets.
Ingredients
6 chicken breasts, boneless and skinless
3 cups flour, seasoned with
salt, pepper, garlic salt and cayenne pepper
6 eggs, well beaten.
2 cups Italian breadcrumbs, seasoned with
Grated parmesan cheese
1 cup pure golden Italian or Spanish olive oil, for frying
Salsa di Pomodoro (Tomato Sauce)
2 cups mozzarella cheese
1 cup grated parmesan cheese.
Handful chopped fresh basil.
Preparation
Separate the flour, eggs, and breadcrumbs into 3 separate bowls.
Dip the chicken cutlet in flour.
Dip the floured chicken into the egg, then the breadcrumbs, coating it evenly.
Heat the oil in a large pan over medium-high heat 370°F (188°C)
Preheat oven to 350°F (177°C)
Fry the chicken until golden brown on both sides.
Place ⅔ of the tomato sauce evenly on the bottom of a baking dish. Place the chicken on top.
Top with the rest of the tomato sauce, then sprinkle the mozzarella and parmesan cheese.
Bake for 20 minutes.
Top with fresh chopped basil and serve.
Salsa di Pomodoro (Tomato Sauce)
EQUIPMENT: 2.75-Qt. Saucepan 
PREPARATION: 40 Minutes – makes 4 to 6 servings
¼ cup pure golden olive oil
8-10 garlic cloves, sliced thin with a razor blade – like in Good-fellas (the movie) or slice on Rotary Food Cutter
1 28-ounce can San Marzano plum tomatoes, crush by hand
½ cup white wine
1 tablespoon Italian seasoning
½ teaspoon crush red pepper
1 tablespoon unsalted butter
12-15 large fresh basil leaves sliced thin.
Heat the olive oil in the 6-quart stockpot over medium-high heat 300˚F (150˚C). Add the sliced garlic and cook until the garlic sizzles and turns just golden around the edges, about 2 to 3 minutes. Add the tomatoes, rinse out the can with ½ cup white wine, and add to the stockpot. Season with the Italian seasoning, salt, and crushed red pepper. Bring to a boil, then adjust the heat to low 180°F (82°C), cover with vent open and simmer until slightly thickened, about 15 to 20 minutes. Do not overcook.
To the sauce, add the butter and basil, stir to combine.
Note: Instead of canned tomatoes, you can use THREE pounds of plumb tomatoes, peeled, and seeded.