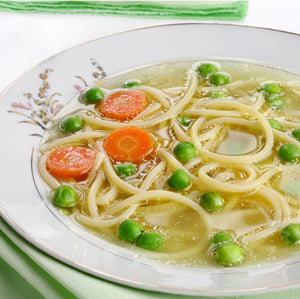 Is chicken noodle soup good for a cold?
For centuries homemade Chicken noodle soup has been the staple of home remedies for the flu and common cold.
Homemade chicken noodle soup is created from a broth made from chicken bones and meat simmered in water for 2 to 3 hours. This process releases minerals like zinc, calcium, phosphorus, and magnesium into the liquid stock. With vegetables added like celery, onions, carrots, leeks, parsnips, or turnips even more vitamins, minerals, calories, and proteins are added to the broth. Rich in electrolytes, chicken soup is perfect solution to prevent dehydration.
Chicken Noodle Soup - Homemade
SERVES: 8 to 10
PREPARATION: Time: 3 to 4 hours
EQUIPMENT: chef knife, cutting board, large serving spoon, Rotary Mandolin Food Cutter, 6-Qt. covered stockpot, ladle
INGREDIENTS:
4 quarts filtered or purified water.

DO NOT USE CHLORINATED TAP WATER

3 pounds whole chicken, cut up, skin trimmed or removed.
2 medium onions quartered.
2 medium carrots 1 inch sliced.
2 medium parsnips 1 inch sliced.
2 stalks celery 1 inch sliced.
1 large bay leaf, whole
2 sprigs fresh thyme, with stem
3 sprigs fresh parsley, with stems
½ cup frozen peas
½ pound egg noodles
1 teaspoon chopped fresh parsley.
½ cup parmesan cheese grated (optional)
DIRECTIONS:
Place chicken parts in stockpot, cover with water and bring to a rolling boil over medium-high heat 375ᵒF. With a large serving spoon, skim off the froth (fat and scum) that rises to the top.
Reduce the heat to medium 275ᵒF. To the stockpot, add the onion, carrots, parsnips, celery, thyme, parsley, and peppercorns. Cover the pan, open the vent and simmer until the chicken is tender and falls off the bone, about 90 minutes.
To strain the broth, you will need two stockpots and a large strainer or sieve. Strain the broth through the strainer into a suitable stockpot or large bowl.
Remove the chicken to a cutting board cut into cubes, discard the bones, and place the vegetables in a mixing bowl.
Place the stockpot with the broth on the stove and bring to a simmer over medium heat 275ᵒF. Add the egg noodles. Return the chicken meat to the broth along with the vegetables.
Add the peas, cover the pan, open the vent and simmer until the egg noodles are cooked, about 15 minutes. Do not allow the soup to boil.
To serve, ladle into soup bowls or a tureen and sprinkle with parsley and grated cheese, if using. Serve with sourdough bread.