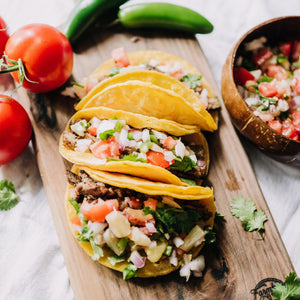 Carne Asada in Spanish translates as "Grilled Beef." Makes sense however, Pico de Gallo translates as "Beak of the Rooster." A bit weird, and I can assure you there is no Beak or Rooster in this recipe, but they do go well together.
Mexican Carne Asada is flank or skirt steak marinated in a mixture of citrus juices with garlic, onion and cilantro then quickly grilled over high heat and served charred rare. Served on a warm tortilla with avocado, and Pico de Gallo, and. homemade Spanish rice, and refried beans.
EQUIPMENT: 1.5-quart mixing bowl with cover, large rectangular Ultra-Vac, chef knife and cutting board, double burner griddle or round griddle "The Man Pan."
Makes 6 to 8 servings.
DIRECTIONS for Marinade
¼ Spanish onion minced
7 cloves garlic minced.
Juice of one fresh squeezed orange
Juice of one fresh squeezed lime
2 tablespoons soy sauce
2 tablespoons apple cider vinegar
1 teaspoon cumin
¼ cup olive oil
¾ bunch fresh cilantro chopped fine
1 medium jalapeno seeded and diced or more for hotter.
Garlic salt to taste
1½ to 2 pounds skirt steak less than 1-inch thick trimmed of fat
Marinade
Combine the marinade ingredients in a 2250ml Ultra-Vac container add the skirt steak and vacuum seal with the pump. Let set for 1 hour without refrigeration.
Ultra-Vac's unique vacuum sealing removes the air from the container, opens the pores of the meat, and allows the marinade to be absorbed in minutes.
ZIP-LOCK if you do not have a vacuum sealing device. Place the marinade and steak in a large ZIP LOCK bag and marinate for 2 to 6 hours. Any longer than 6 hours and the steak may become tough and sometimes mushy.
Pico de Gallo
6 Roma Tomatoes diced.
7 cloves garlic minced fine
¾ Spanish onion diced
¼ cup Cilantro minced fine
1 small Jalapeno seeded and diced or more for hotter.
Juice of one fresh lime
¼ cucumber diced (optional)
Garlic salt to taste
In the 1.5-Qt Mixing Bowl combine diced tomatoes with minced garlic, onion, cilantro, jalapeno, cucumber, and lime juice. Cover and refrigerate.
Carne Asada
I am not a huge fan of cooking over super-hot coals because I want to taste the beef and marinade, not smoke and char. But if that is your thing it's okay with me. I prefer to cook steak in a heavy stainless-steel skillet. The additional advantage to cooking steak in a pan is the pan juices can become delicious au jus or gravy.
Before searing the steak, it must have been removed from the Ultra-Vac or Zip Lock bag to achieve room temperature and excess moisture dripped off.
Searing the Steak
Preheat the grill for 15 to 20 minutes or pan over high heat 450ᵒF to 550ᵒF for 7 to 10 minutes. When using the round griddle, I use a portable induction cooktop to set the exact temperature. Induction heats faster than gas, and a lot faster than a grill or an electric stove. So, when cooking on induction you must be ready to cook as the pan will reach temperature in just a few minutes.
Place the steak on the cooking unit and sear for about 3 to 4 minutes per side.
Allow the Steak to Rest
Remove the steak to a warm platter and allow it to rest for about 7 to 10 minutes. Resting the steak allows the juices to redistribute.
To Serve
Slice the Carne Asada against the grain into thin strips. Serve with tortillas, Avocado, and Pico de Gallo for making tacos, or sliced over a salad.
NOTE: If Cilantro is not available Thai Basil and/or Parsley can be used.