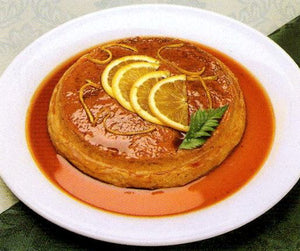 Caramel Flan
Serves: 8
Preparation Time: 3 hours
Equipment: 1-quart (1.5 L) Saucepan, 1¼-quart Saucepan push button handle removed, Large Skillet, Steamer Rack, 4½-quart Dutch oven cover
Caramel
½ cup sugar

¼ cup (60 ml) water
Custard
4 eggs, slightly beaten

6 tablespoon sugar

2 cups (480 ml) half-n-half (half milk, half cream)

1 teaspoon vanilla

1 cup (240 ml) water
To create Caramel; in the 1-quart Saucepan, combine sugar and water, cook over low heat and stir until sugar is completely dissolved. When completely dissolved, increase to high heat, continuing to stir until syrup turns a deep golden brown color. Remove from heat and pour into 1¼-quart saucepan. Turn saucepan to coat the bottom and sides.
To make Custard; combine all ingredients in a mixing bowl, and mix well. Pour custard mixture into Caramelized 1 ¼-quart Saucepan, cover (vent closed). Add 2 cups of water to the large skillet, place 1¼-quart covered Saucepan on Steamer Rack, and cover with 4½-quart Dutch oven cover. Turn to medium-high heat until a vapor seal forms around the rim. Reduce to medium heat and cook 45 minutes. Remove from heat.
Using the push-button handle and a pot-holder, remove the 1¼-quart from Steamer Rack, uncover and allow cooling, then covering and refrigerating.
To Serve; remove the cover and place a serving dish inverted over the pan, invert the pan onto the plate. Garnish with lemon zest.
NUTRITIONAL BREAKDOWN PER SERVING: Calories 174; Fat Grams 7; Carbohydrate Grams 25; Protein Grams 4; Cholesterol mg 22; Sodium mg 52.
THE POINT SYSTEM: Calorie Points 2½; Protein Points 0; Fat Grams 7; Sodium Points 2; Fiber Points 0; Carbohydrate Points 1½; Cholesterol Points 2.