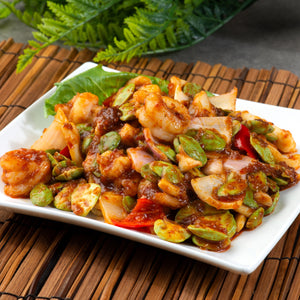 Healthy Cooking with Jack Harris and Charles Knight
Shrimp with Lobster Sauce (mock) - Scroll Down for VIDEO
Shrimp with Lobster Sauce is of North American origin invented by Chinese Cantonese restaurateurs. It is a "white sauce" of mild flavor, with a chicken stock base. The sauce itself does not contain lobster and may vary in ingredients and preparation methods. It is typically prepared with chicken broth, garlic, ginger, green onions, fermented black beans and/or the tomalley (the "guts" or roe of the lobster), and eggs, and is thickened with corn starch.
Never-the-less, this recipe is "Italian Style" Shrimp with a mock Lobster Sauce.
PREPARATION TIME: 30 minutes - serves 4.
EQUIPMENT: 13-inch Gourmet Skillet, Electric Skillet or WOK
INGREDIENTS:
2 Johnsonville Italian Sausage removed from skin.
1 tablespoon garlic minced.
1 teaspoon fresh ginger grated (optional)
¼ cup chardonnay or sauterne wine
1-pound raw large shrimp, shelled and deveined
1 teaspoon fresh ginger grated.
2 tablespoons corn starch
1½ cups chicken broth
2 whole eggs, lightly beaten.
2 cups white rice cooked.
½ bunch green onions chopped 
INSTRUCTIONS:
Prepare the rice as directed and keep warm. Shell and devein shrimp and set aside.
In the 13-inch Gourmet Skillet, heat over medium heat 325ᵒF. When hot, add the Italian Sausage. Stir-fry until cooked, about 3 to 4 minutes.
Add garlic and ginger and continue to stir, about 1 to 2 minutes.
Deglaze the pan with wine.
Add the shrimp and continue to stir-fry until cooked. About 4 to 5 minutes.
Prepare the cornstarch mixture by adding the cornstarch and chicken stock. Gently pour in the chicken stock and cornstarch mixture and continue stirring.
Bring it back to a simmer, swirl the beaten egg and immediately begin to stir. When the egg whites begin to form into silken threads, turn off the heat.
Serve over warm rice and top with chopped Green Onions.