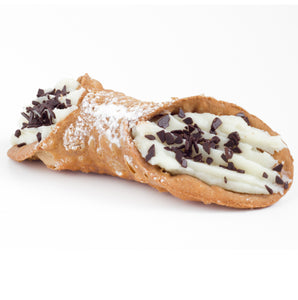 Cannoli's a Sicilian Classic
EQUIPMENT: Health Craft food cutter, measuring spoons, rolling pin, cannoli tubes, 11-inch sauté skillet, tongs, or slotted spoon, pastry bag
PREPARATION 2 hours - 24 servings
Cannoli
2 cups sifted flour
2 tablespoons Crisco
1 teaspoon honey
¾ cup Marsela wine
Filling
1 pound ricotta cheese, drained
½ cup confectionary sugar
2 ounce (2 squares) semi-sweet chocolate grated, #2 cutting cone
3 tablespoons citron chopped
½ teaspoon cinnamon
2 tablespoons crème de Cocoa liqueur
1 egg lightly beaten
1½ quarts vegetable oil (I use olive oil)
12 strips candied orange, lemon and/or lime
12 glazed cherries
½ cup pistachio nuts, toasted and chopped
DIRECTIONS:
Cannoli Crust: Combine flour, Crisco, and honey. Gradually add Marsala wine as you knead by hand until dough is firm. Cover and set aside.
Filling: Combine ricotta cheese with confectionary sugar, cinnamon, and crème de cocoa. Refrigerate until ready to use.
Cannoli Crust: With a rolling pin, roll into ¼ inch thin sheets. Using a sharp knife cut dough into 4-inch squares. Place cannoli tubes diagonally across squares and wrap dough around each tube overlapping the opposite points. Seal each point with beaten egg wash and press together.
In the sauté skillet, heat oil to 375ᵒF, place the cannoli dough in tubes in the skillet. With tongs, turn and fry to golden brown evenly about 1 minute per side. Remove with tongs or slotted spoon and allow to drain on paper towels. Allow to cool. When cooled gently remove cannoli shells from tubes.
Fill pastry bag will cheese filling and pipe cannoli tubes with filling. Place candied orange on one end and candied cherry on the other end, press pistachio chips into each end.
To serve: top with powdered confectionary sugar.
Cannoli tubes are available at most kitchen stores and Amazon.
Candied fruits (citron) are available from the Paradise Fruit Company Tampa and on Amazon click link Candied Fruit Product Purchase, Coupons, & Recipes (paradisefruitco.com)
The citron is a large fragrant citrus fruit with a thick rind. It is one of the original citrus fruits from which all other citrus types developed through natural hybrid speciation or artificial hybridization. Though citron cultivars take on a wide variety of physical forms, they are all closely related genetically.
VARIATION
Hazelnut Butter Cream Filling
½ cup unsalted butter
1 pound confectioners' sugar
2 tablespoons crème de cocoa
1 cup hazelnuts, minced
2 ½ tablespoons cocoa
3 tablespoons milk
Combine all ingredients and mix until smooth and creamy. Fill shells as directed above.  
VARIATION
Christmas Cannoli's
Cannoli Shell
2 ¼ cups all-purpose flour
¼ cup sugar
½ teaspoon cinnamon
¼ teaspoon cloves
1/3 cup Crisco shortening
2 well beaten eggs
1/3 cup dry white wine
2 cups Crisco or Olive oil for frying
Cannoli Filling
2 pounds ricotta cheese (homemade preferred)
1 ½ cups powdered sugar, sifted
1 teaspoon vanilla
½ cup German sweet cooking chocolate
¼ cup chopped citron
Pistachio nuts chopped
Powdered sugar
DIRECTIONS
In a large mixing bowl combine flour, sugar, cinnamon, and cloves, mix well. Cut in shortening forming into small peas like balls. Combine eggs and wine and add to flour mixture. Mix until dough forms a ball. Knead 10 to 12 times, divide in one-quarters, and roll out to about 1/16 thick. Cut into 4-to-5-inch circles.
Wrap dough around cannoli tubes and fry in sauté skillet at 375ᵒF oil until golden brown about 1 to 2 minutes. Set aside on rack to cool.
To prepare the filling, in a large mixing bowl combine ricotta cheese with powdered sugar, vanilla, chocolate, and citron. Place mixture in pastry bag and stuff cannoli with filling.
Press pistachio nuts into filling at each end of cannoli and top with powdered sugar.