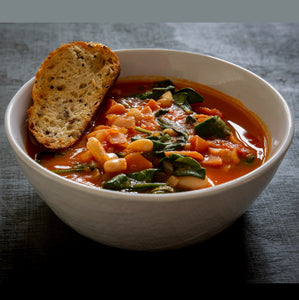 Caldo Gallego (Galician Stew)
See video Healthy Cooking with Jack Harris, Kim Goddard & Charles Knight
Caldo Galego translated simply means "Galician broth" or stew. It is a traditional soup dish of Galicia and is prepared with beans, turnup greens and potatoes, ham and/or sausage. A Caldo can also be made with chicken, beef, or seafood, and a mix of spices and vegetables.
Galicia is located directly north of Portugal with the Atlantic Ocean to the west and bordering Spain to the East. The Galicians (about 3 million people) have their own language which is most closely related to Portuguese and also shares many similarities with Castilian Spanish, including sounds and spelling.
EQUIPMENT: 5-quart Stockpot
PREPARATION TIME: 1 Hour – Makes 6 to 8 servings.
INGREDIENTS;
2 tablespoons golden olive oil (no virgins)
2 carrots, diced.
1 large green pepper, seeded and diced.
1 onion, chopped.
3 cloves garlic minced fine.
1 pound ham hocks, diced.
1 cup chardonnay wine
2 cups chicken stock
2 white potatoes, diced.
2 chorizo sausage links, sliced.
3 cans Garbanzos beans or Cannellini beans with liquid
2 cans collard greens with liquid
1 pinch white pepper
2 tablespoons apple cider vinegar
Crystal Hot Sauce to taste.
Bouquet Garni
DIRECTIONS:
In the stockpot, lightly brown carrots, pepper, and onions in olive oil over medium heat 300°F (150°C). Add garlic and diced ham hocks and continue to sauté until caramelized. Deglaze the pan with white wine and continue to sauté until liquid thickens.
To the stockpot add the chicken stock, potatoes, chorizo, beans with liquid, and collard greens with liquid, pepper, vinegar, and Bouquet Garni. Reduce the heat to 210°F (99°C) and simmer, 30 to 40 minutes.
Note: If using homemade beans and collard green, add appropriate amount of chicken stock, about 1½ to 2 cups.
Serve with Cuban bread!