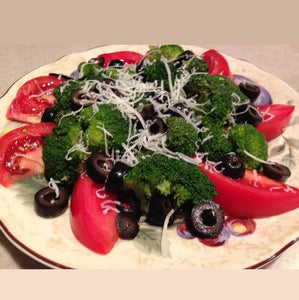 A diet rich in fruits and vegetables, high in nutrients and low in calories, is your best bet for a long life. Researchers have found that compounds in broccoli, when cooked properly, pack extra life-extending benefits.
CAFÉ Amaretto Broccoli Salad
EQUIPMENT: 2 Qt. Saucepan, mixing bowls, whisk, food cutter 
PREPARATION: 1 hour 15 minutes, makes 4 servings
INGREDIENTS: 
1 head of broccoli flowerets, stems reserved.
1 egg yolk, slightly beaten.
¼ cup filtered or purified water
1 cup Italian golden olive oil
1/3 cup balsamic vinegar
½ lemon, juice of
1 teaspoon dried mustard
1 teaspoon garlic minced fine or pureed with a knife.
1 cup olive oil
1 dash salt
1 dash pepper
Boston lettuce
1 large tomato, cut in 8 wedges\
Black olives
½ cup Romano cheese, grated #1 cone
DIRECTIONS:
Cooking the Broccoli the Waterless Way: Fill the pan to the top with broccoli flowerets. Rinse with cold water and pour all the water off. The water that clings to the broccoli flowerets is sufficient cooking the waterless way. Cover the pan, close the vent (if the pan has a vent) and cook over medium-low heat 210°F (99°C). When the cover spins freely on a cushion of water, the vapor seal has formed. After forming the seal, cook for about 5 minutes. Alternative method would be to blanch the broccoli flowerets in boiling water for about 2 minutes.
Whisk together the egg yolk, water, olive oil, balsamic vinegar, and dried mustard in a mixing bowl. Continue whisking, gradually blend in the oil.
Chill the broccoli and the salad dressing in the refrigerator before serving, about 45 minutes to 1 hour.
SERVING:
Place the lettuce on a salad plate and arrange the broccoli and tomato wedges on the lettuce. Top with salad dressing, black olives, and grated cheese.