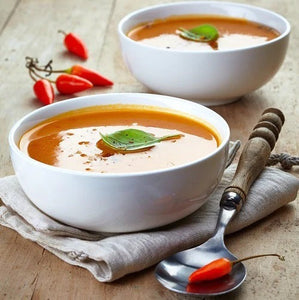 Butternut squash soup is a hearty and comforting dish that has been enjoyed for centuries. The soup originated in North America, where Native Americans and early settlers would make the dish with ingredients like butternut squash, corn, and beans. Over time, the recipe evolved to include a wider range of ingredients, including cream, spices, and herbs.

Today, butternut squash soup is a staple in many households and restaurants around the world. It is a healthy and nutritious dish that is perfect for cold winter nights or as a starter for a special dinner.

If you're a fan of butternut squash soup or are curious about its rich history, be sure to try out some of the many delicious recipes available online or in cookbooks. You won't be disappointed!
Butternut Squash Soup - Recipe By: Queenie Fedyk circa 1950s
PREPARATION: 1 hour – make 6 servings.
Categories: Soups, Stews and Chili
EQUIPMENT: butcher knife or cleaver, Kitchen Machine food cutter, 5 Qt. Soup Pot with vented lid
INGREDIENTS: - Preparation Method
1 white onion chopped and peeled #2 cutting cone.
3 tablespoons unsalted butter
2 pounds butternut squash grated and peeled #1 cutting cone.
¼ teaspoon fresh nutmeg, grated #1 cutting cone
3 cups low sodium chicken broth
½ cup cream or half-n-half
½ teaspoon sugar
6 teaspoons sour cream -- (optional)
Fresh basil leaves for garnish
DIRECTIONS:
Trim about 1/4 inch from the top and the bottom of the butternut squash to create a stable flat surface for safe cutting. Stand the butternut squash upright on a dry cutting board. Using a butcher knife or cleaver, slice the squash in half from top to bottom, scoop out the seeds, then cut it in quarters and again in 1/8's. Using the food cutter and shredding cone #1, place the hard outer skin up and away from the cutting cone and grate and peel the squash all in one operation.
Preheat the 5-quart soup pot over medium heat 275°F (135°C), melt the butter and sauté onions until tender. Allow it to cool slightly and add the grated squash. To cook the waterless way, cover and close the vent. Cook over medium-low heat 175°F (79°C) for about 20 minutes. Add the nutmeg, chicken stock, and cream. Mix thoroughly. Simmer over medium-low heat 175°F (79°C) for another 15-20 minutes.
Serving Ideas: top with sour cream (optional) and a fresh basil leaf.
Per Serving (excluding unknown items): 201 Calories; 12g Fat (50.4% calories from fat); 8g Protein; 19g Carbohydrate; 3g Dietary Fiber; 35mg Cholesterol; 275mg Sodium. Exchanges: 1 Grain (Starch); 1/2 Lean Meat; 1/2 Vegetable; 0 Non-Fat Milk; 2 1/2 Fat; 0 Other Carbohydrates.