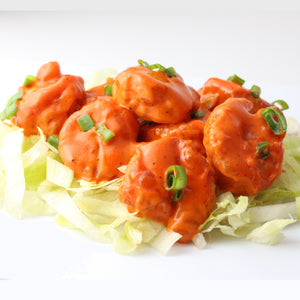 Buffalo Shrimp Scroll Down for Video with Jack Harris and Chef Charles Knight
Back in the day Parkay Margarine was a sponsor and the recipe is particularly good with Parkay, I also recommend that you try it with unsalted butter. Either way you will be delighted.
EQUIPMENT: 10-inch gourmet skillet or Oil Core Electric Skillet
PREPARATION TIME: 15 minutes - Serves 6 to 8
INGREDIENTS:
2 pounds shrimp, peeled and cleaned
1 stick unsalted butter
½ teaspoon Lawry's Seasoned Salt
¼ cup Crystal Hot Sauce (or amount to taste)
½ cup Italian breadcrumbs
6 – 8 stalks celery
3 tablespoons Blue Cheese Dressing
3 tablespoons Ranch
DIRECTIONS
Peel and clean shrimp, rinse and let drain in colander. Make sure they are thoroughly dry before cooking or your sauce will not thicken, and the recipe will be watery. You can pat dry with paper towels.
Clean and cut celery stalks into 3–4-inch lengths.
Preheat skillet on medium heat 275ᵒF, add unsalted butter and allow to melt thoroughly. Add shrimp a little at a time to keep the butter sizzling and the pan hot. Stir with wooden spoon until the shrimp are almost cooked (do not overcook), about 3 to 4 minutes.
Add seasoned salt and pepper sauce and stir until the liquid begins to thicken. Sprinkle with breadcrumbs and gently stir until all breadcrumbs have absorbed the liquid.
Serve immediately with celery, blue cheese, and ranch dressing.