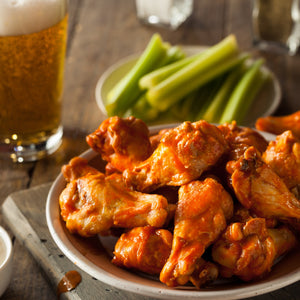 Buffalo chicken wings are a popular American dish that originated in Buffalo, New York in the 1960s. The story goes that the owner of the Anchor Bar, Teressa Bellissimo, created the dish by deep-frying chicken wings and tossing them in a spicy sauce made of hot sauce and butter. The dish was an instant hit in Buffalo and soon spread to other parts of the country.

Today, buffalo chicken wings are a staple in many bars and restaurants across the United States. They are typically served with celery and blue cheese dressing on the side. Over the years, many variations of the dish have been created, including boneless wings, grilled wings, and even vegetarian wings made with cauliflower.

Despite their popularity, buffalo chicken wings remain closely associated with their place of origin. The Anchor Bar still serves them today, and the city of Buffalo even celebrates National Chicken Wing Day on July 29th each year.
NOTE: If you love buffalo chicken wings, want to cut the fat, and avoid the process of deep-frying, this is an excellent alternative, and tasty too! Deep fried wings have almost three the calories and six times the fat.
EQUIPMENT: French chef's knife, cutting board, large covered sauté skillet or oil core electric skillet, measuring cups and spoons and small serving bowl
PREPARATION: 30 minutes – make 48 appetizers
INGREDIENTS:
24 large chicken wings
4 stalks celery
1 cup Low-Sodium Chicken Stock (homemade page 217 Healthy Meat and Potatoes cookbook or 1 stick (8 tablespoons) unsalted butter
1 to 3 tablespoons Crystal hot sauce
¼ cup Italian Breadcrumbs
Oil Core Electric Skillet Recipes
DIPPING SAUCE:
½ cup sour cream
¼ cup crumbled blue cheese
¼ cup Worcestershire sauce
¼ teaspoon Crystal hot sauce
¼ teaspoon Dijon mustard
With a knife or poultry shears, trim off the tip of the chicken wings and discard. Cut the wings in half at the joint and trim the skin from the meat (removing the skin reduces fat and calories by up to 50%).
In a hot, dry skillet over medium-high heat (350ᵒF to 375ᵒF), cook chicken wings to a crisp golden brown, 6 to 7 minutes per side. Cook covered with the vent open. Note: in a high-quality 304 or 316 stainless steel you will not have to use oil to prevent the chicken from sticking to the pan. It will loosen itself when sear and caramelized.
Meanwhile, prepare the dipping sauce: In a mixing bowl, combine the sour cream, cheese, Worcestershire sauce, hot sauce and Dijon mustard, mix well and set aside.
With a knife, cut each celery stalk into 3 or 4 equal size portions and then slice each portion in 3 o4 4 bite-size celery sticks. Place the Dipping Sauce in the middle of a serving platter and arrange celery sticks around the sauce.
WITH CHICKEN STOCK: Slowly stir in the stock in with the chicken wings. Reduce the heat to medium-low (200ᵒF to 225ᵒF). Add the hot sauce and breadcrumbs and mix well.
WITH UNSALTED BUTTER: Add the stick of unsalted butter in with the chicken wings. Reduce the heat to medium-low (200ᵒF to 225ᵒF). When the butter has melted completely add the hot sauce and breadcrumbs and mix well.
NUTRITIONAL VALUES:
PER PIECE, WITH STOCK: 47 calories, 1.3g Fat (26% calories from fat), 8g Protein, 0.5g Carbohydrates, 20mg Cholesterol, 44mg Sodium.
PER PIECE, WITH UNSALTED BUTTER: 64 calories, 3.2g Fat (47% calories from fat), 8g Protein, 0.5g Carbohydrates, 25mg Cholesterol, 3mg Sodium.
DIPPING SAUCE, PER SERVING: 8 calories, 0.7g Fat (82% calories from fat), 0.2g Protein, 0.1g Carbohydrates, 2mg Cholesterol, 12mg Sodium.